Travel Israel & Jerusalem With a Plan
Your Step-by-Step
Jerusalem Travel Planner
Travel Israel and Jerusalem with a plan: There are more than three thousand years' worth of things to see and a vibrant modern city to explore here, so planning a Jerusalem vacation can be just a bit overwhelming.
Use this box to find the best fares to Israel
Fortunately, you've got us to help.

To start you off, we've put together this step-by-step vacation planner to help you get organized and help you focus your thoughts on what to do and where to go as you travel Israel.

We'll walk you through planning your trip one thing at time, from booking a flight to choosing a tour that will have you visiting what you want to see.
Just follow the steps and together we can make this the journey of a lifetime. Let's do it.

Or as Israelis say, Yallah!
1) Have you got your passport?
That's probably all you need to get into Israel. Israel has treaties with 79 countries around the world that make visas unnecessary.
Are you a citizen of one of the lucky 79?  Will you need any immunizations? What kind of money should you bring?  Find all this out right here.

Is travel to Israel safe?  Our opinion.

Will you need a list of emergency numbers?
What should you pack?  What's the weather like?  When should you come?  The answers to all these Jerusalem travel questions and more right here.

2) Book your flight
Once you have your dates set and your flight booked, everything else will naturally fall into place much more easily.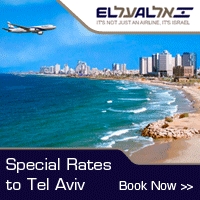 Find out how to get cheap flights to Israel, and why we recommend El Al Airline.
When you're deciding when to come, you may want to keep in mind that fares aren't the same all year round. Sometimes postponing or moving up your trip by just a few days can save you several hundred dollars.
Summer is peak season,since it's the most popular time to travel Israel, but so are the periods around Jewish holidays - in the spring, the weeks immediately before and after Passover, and in the fall, from Rosh Hashanah to after Sukkot. (Check here for dates of upcoming Jewish holidays.)
Could you get a free trip to Israel? If you've never been here before, you're Jewish and under 26 years old, it's worth finding out if you qualify to travel Israel on a Birthright trip.
3) Find the Perfect Jerusalem Hotel for You ...
Jerusalem offers lots of choices when it comes to accommodations.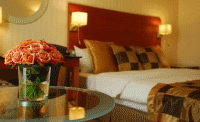 There are top of the line luxury hotels and budget hotels and everything in between.

If you want to stay in a historical landmark lush with history, or prefer the crisp ultramodern chic of a designer boutique hotel, you can have your pick.
Jerusalem is also unique in that it boasts an array of pilgrim hostels that offer spiritual havens for those seeking places conducive to peaceful contemplation.
We've got them all covered in our Guide to Jerusalem Hotels.
... Or Rent An Apartment

There's another option that often costs less than a hotel, especially if you're traveling as a family: consider staying in an apartment.
Renting a Jerusalem apartment may be just the right way to go for you.
It's often the best choice if you're traveling with young children, have a large family or even for a romantic get-away with your beloved.
You'll also get a taste of what it's like to really live here – and we've got a great assortment of highly-recommended Israel apartments.
4) How to Get to Jerusalem from the Airport
Your plane will land at Ben Gurion Airport, which is in Tel Aviv. This means you still need to get to Jerusalem, about 65 kilometers (40 miles) east.
How do you do that? Well, that's really up to you!
Here are your options for going to Jerusalem from Ben Gurion Airport.
Soon, you'll be in Jerusalem ... what will you do when you get here?
5) Plan Your Sightseeing
This is where things can get tricky, so let's narrow your focus.
How much time do you have?
If you have just a day or two to travel Israel and Jerusalem, check out our suggestions for one-day Jerusalem tours.
If you're lucky enough to have more time, then give some thought to what interests you most:
Is it archaeology and ancient history?
Is it modern history?
Architecture?
Would you like to tour Jerusalem's many museums?
Jerusalem offers all this more. Look into some of the many Jerusalem walking tours that cater to a wide variety of specific interests.
Also be sure to check our events calendar for any exhibits, concerts or other happenings you wouldn't want to miss.
Quick Jerusalem Sightseeing Links
6) Take a Day Tour
Get an overview of Jerusalem by taking a day tour.
You'll learn a lot about the history and background of the places you visit, and you'll get a better idea of the places you want to come back to for a more in-depth exploration.
Jerusalem One-Day Tour Suggestions
7) Take a Day Trip: Explore Israel
Jerusalem is located in the center of the country, so it's a perfect base from which to travel Israel and explore other sites through a series of day trips.
Whether you head north to the Galilee, west to the coast and the metropolis of Tel Aviv, or south to the Negev desert, there's a lot to see within a day's ride of Jerusalem.  So give some thought to what you to include in the perfect Israel holidays for you.

Travel Israel:  Trips From Jerusalem
Browse through more tours in and around Jerusalem here.
And you may want to check out the following additional resources.

If don't often get to this part of the world and want to tack on another country to your trip, here are some other destinations that are easy to combine with a Jerusalem vacation.

8) Get Our Guidebook - Take Us With You!

Yes, we know, this sounds like shameless self-promotion. But honestly, if you have just a short while to spend in Jerusalem, take us with you!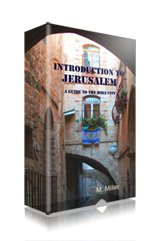 Yes, we know, this sounds like shameless self-promotion. But honestly, if you have just a short while to spend in Jerusalem, take us with you!
Our compact guidebook helps you make the most of a short visit to Israel's capital. How do you squeeze three thousand years of history into two or three days? We tell you how, while still enjoying yourself.
Best of all, you can download your copy right now. No shipping and instant gratification!

Get your copy of Introduction to Jerusalem:
Let us guide you around our favorite city!

---
Jerusalem
› Travel Israel Planner
---
Don't Miss What's New in Jerusalem!

Stay up-to-date with all that's new in Jerusalem and on this site. Subscribe to the RSS feed at the top of the navigation bar over on the left and you won't miss a thing.
And sign up for our free monthly newsletter to stay abreast of what's going on, as well as new discoveries, seasonal events, cool Jerusalem tours and exciting activities.

Subscribe to Our Newsletter