What's the Best Israel Holidays Itinerary for YOU?


The variety of Israel holidays possible is limited only by your imagination and time.

If you have the time, your trip can include far more than Jerusalem – as fascinating a city as it is. Despite the country's small size, you'll find destinations here to suit every taste and interest, ranging from the hopping nightlife of Tel Aviv, to the beaches of Herzliya, the serene mountaintops of Tzaf (Safed) to the ski slopes and vineyards of the Golan Heights.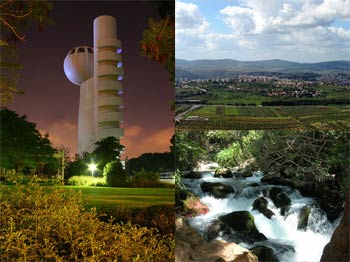 Tours to Israel are as varied as its people. You expect religious tours to the Holy Land, but did you know birdwatchers the world over come to Israel to enjoy the yearly migrations?There are tours for artists, photography tours and bicycling tours.

Click here for FREE brochures of the many different Israel tours possible.

It's the sheer variety that sometimes makes it hard to decide what to include when you plan your Israel holidays. Do you head south or north, go skiing or surfing?
Here, we first cover some of Israel's main attractions out of Jerusalem and suggest some places to include so you can create your own Israel holiday itinerary just the way you want it, based on your own interests or needs. (If you're looking for dates of Jewish holidays and other official Israel holidays, click here.)

To go straight to our Israel holiday itinerary suggestions, click on any of the following categories:
Jewish Religious Sites, Christian Sites, Family Fun, Wheelchair Accessible, Food and Wine
(Click here to learn how to find cheap flights to Israel)
Tel Aviv
is only 45 minutes away from Jerusalem. While it's famous for its nightlife, beaches and the Dizengoff fountain, it is also home to the famous Diaspora Museum and it is a UNESCO World Heritage site. Why? Because Tel Aviv, surprisingly enough, is home to important examples of Bauhaus architecture.
Find more tourism information, photos and read what other travelers have to say about Tel Aviv at TripAdvisor.
Where to Stay in Tel AvivTzfat
(often called
Safed
in English) is one of Israel's four holy cities – Jerusalem, Tiberias and Hebron are the other three. This picturesque city, perched atop the mountains, was a cradle of Kabbalah, the site of many famous graves and hosts a thriving artists' colony. It was also home to one of Israel's most famous artists, Shalom of Safed.
Click here for more tourism information, hotel deals and travel reviews about Tzfat (Safed).
Haifa
is a study in contrasts – a hard-working, blue-collar town, it is also one of the prettiest cities in the Middle East, with one of the most beautiful gardens anywhere. From the port, this coastal city spreads up Mt. Carmel and is overlooked by the Baha'i Shrine, one of only seven in the world.
Haifa is a good base from which to visit Caesarea, Akko and Zichron Yaakov.

Find more tourism information, photos and the best hotel deals, compare prices, and read what other travellers have to say about Haifa.

Zichron Yaakov - a picturesque village with fantastic wines - often reminds visitors of the Napa Valley, or Tuscany, right here in Israel. It is home to four famed wineries, restored 19th century homes, pretty boutiques, the Aaronsohn House Museum, the First Aliya Museum, and the gorgeous Ramat Ha-nadiv gardens, Baron Edmund the Rothschild's final resting place. It all makes for a beautiful, romantic get-away.

Find out more about Zichron Yakov.

Tiberias is not just a waterfront resort, a historic city and spa on Lake Kinneret. It is also the burial place of Rabbi Meir Baal Hanes, Maimonides, Rabbi Chaim Luzzatto, and the "Mothers": Bilhah and Zilpah (Jacob's wives), Yocheved (Moses's mother), Tzipporah (Moses's sister-in-law and wife of Aharon the first High Priest), and Avigael (King David's wife), and thus a major pilgrimage center, as well as a popular Israel holidays destination.

Find more tourism information, photos and the best hotel deals, compare prices, and read what other travellers have to say about Tiberias.

Akko is the "Acre" of Crusader lore, but the city boasts a far more ancient history than that. The well-preserved port is a picturesque delight. The Knight's Hall once hosted Marco Polo. Akko also boasts several caravanserais – inns for camel caravans (Khan al-Umdan, by the harbor is the grandest). There's a colorful shuk and also the Museum of Underground Prisoners, where 9 Jewish prisoners were executed by the British. Scenes of the movie Exodus were filmed right here. It's a great place to spend a day or two of your Israel holidays.

Heading north, you'll find the Golan Heights. While best known for their strategic importance, the Golan is also a hiker's dream, with waterfalls, national parks and trails galore. It's main town, Katzrin is built around the remains of an ancient village. This is where you'll find Gamla – an ancient city inhabited since the Bronze Age, and often considered the "other Massada".
The Golan is also one of Israel's wine regions. At the base of the Golan lies the Hula valley, an important stop on many species of birds' seasonal migration route between Europe and Africa.

Find out more tourism information and the best deals on Golan Heights accommodations.

Turn south, far south, to enjoy the water sports and underwater wonders of Eilat holidays, where you can swim with dolphins.



Jewish Religious Sites in Israel
Jerusalem and nearby Bethlehem and Hevron are replete with Jewish holy sites. But there are more – many more – sites of Jewish interest all over the country! In fact, it's hard to find a place in Israel that doesn't figure somehow in the Torah.
Here's just a short list of sites to add to your itinerary:
Meron, the grave of Rabbi Shimon Bar Yochai

Tzfat (Safed)

Tiberias

Kever Devorah Hanevia, in Tel Kerem, 22 miles north of Tiberias

Kever Rachel eshes Rabbi Akiva, just outside Tiberias

Massada


Christian Sites in Israel
Once you're done following the footsteps of Jesus in Jerusalem, head North to visit:
Nazareth

Caesarea

Caphernaum

The site of the wedding feast of Cana

Tiberias

Mount Tabor


Click here to order a Free Brochure of pilgrimage tours to Israel.
Family Fun Israel Holidays
Israel holidays can be a blast for families traveling together - there's something here to appeal to kids of all ages and interests. Here are a few out of town suggestions to include on your trip:
Latrun and its Armored Corps Museum

Mini Israel

Tel Aviv's Palmach Museum

Tel Aviv's Safari Park and Zoo

Herzliya beach (in the summer) and nearby enormous jungle gym park (any season)

Tzfat (Safed)

Akko

Sepphoris

Eilat


Wheelchair Accessible Israel Holidays
Fortunately, more places are becoming handicapped accessible. Here are a few suggestions of places you might not think of that, as of this writing, are wheelchair accessible. (However, speaking from experience, it's safest to double check before you set out to make sure your destination will be accessible - that the lift isn't broken, etc ... on the day you want to go.)
Mini Israel

Tel Aviv Port

Yarkon Park

Caesarea

Zichron Yakov – First Aliyah Museum and the promenade

Nahal Hashofet Nature Preserve

Capernaum

Kibbutz Ginosar

Utopia Orchid Park


Food and Wine in Israel
While Jerusalem and Tel Aviv boast some first class restaurants, you'll also want to include one of the following wine routes and suggestions:
Golan Heights winery tour

Zichron Yaakov wine country

Hameiri Dairy - the first one in Israel - in Tzfat (Safed)

Bet Guvrin National Park Olive Press

Jerusalem Culinary Institute - Name not withstanding, it is actually located in Moshav Mesilat Zion, 20 minutes out of Jerusalem.


For more information and travel secrets about the many other wonderful Israeli attractions and places to visit in Israel, visit our friends at Israel-Travel-Secrets.com.



Return from Israel Holidays to Jerusalem Home page.