How I Came to Jerusalem,
Discovered My Dreams ...

- and the Magic to Make Them Come True ...


Hi. I'm proud to be a Jerusalemite.
My name's Myriam. That's right – with a "y". It's the French spelling of the name – I was born in Brussels, Belgium. But since then, I've travelled pretty much all over the world.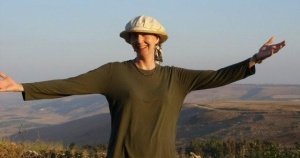 After visiting almost every major city on this planet, I chose to live in Jerusalem. No other place in the world makes me feel this alive. And I make my living wandering about the city I love.
So many people have told me they'd love to visit – maybe even live – here. But they have neither the time or the money to make it happen.
Yes, those are real excuses. (I know what it's like to be short of both money and time -just keep on reading!) But I strongly believe we can wade through adversity and make our dreams happen. If I could do it – so can you! How?


This is my story.

I loved to travel.
It was more than a hobby - almost everyone in my family was a travel professional. Our family reunions could pass for an IATA convention (airline execs, flight attendants, travel agents – you name it!) By the time my first child was born, I'd lived in 15 different countries and traveled through countless more. I figured I knew all there was to know about being a savvy traveler – squeezing all I could out of a place … and moving on to the next.


Until I got to Jerusalem.

Something weird happened. When it came time to leave, I couldn't let go. I stood in a garden overlooking the city and for the first time in my life I felt I was home. I didn't know what was wrong with me!
It was actually very simple – I fell in love with Jerusalem. Its stones, its air … its buses…its history…its spirituality … the down-to-earthness of its people. This is where I wanted to raise a family – where the things that really matter are what matters.
But I had commitments elsewhere, and I had to tear myself away. The only way I was able to do it was by promising myself I come back here to live. In the years that followed, I came back as often as I could, but never long enough.
Finally, in 1999, after many years of planning and dreaming, my husband and I made Jerusalem our home.



Only the dream didn't turn out quite the way I'd dreamt it ...
Instead of walking through Jerusalem's alleys teaching my children about their heritage and Jerusalem history and letting them romp in the forest, I suddenly found myself a single mom, harried just to make ends meet.
I'd drop the kids off at the sitter's at dawn, rush to my day job at a government office, run home to feed the kids dinner, put them to bed, and head off to my night job at a newspaper.
This was not the type of mom I wanted to be. I wanted to be a homeschooling kind of mom. The kind of mom who was there to do science projects, help with homework, bake cookies; who took the children on field trips. Instead, I hardly ever saw them.
And as for my dreams of being a writer – well, those I'd had to give up after my first novel was published. People I knew kept asking me for a sequel. Please – what a joke! When could I possibly write? I'd collapse into bed at 2 a.m. and wonder … where did the magic go?


"I don't want to get to the end
of my life and find that I have just lived the length of it.
I want to have lived the width of it as well." - Diane Ackerman
One night, I decided I just was not going to let it pass us by. As if the universe had been just waiting for me to say that … the next thing I knew, I got laid off the night job when the paper folded with only two days' notice. Taking that as a sign, I also quit the government job, and took a part-time one I could do from home. If we had to, we'd eat pita and peanut butter – but my children needed a parent. And I went back to my first professional love – writing – and to my family roots – the travel industry.
We've led so many visiting friends and family around Jerusalem that one day I thought, why not share our love of Jerusalem with a wider audience … and spread the magic?
That's how the idea for this website was born.
The idea was great, but I didn't know anything about how to build a website. In fact lots of people tried to convince me to get into blogging instead. But after much research, I found that many successful websites I knew had one thing in common - they used a company called Solo Build It to help them build their site. I also determined that blogging was not the right choice for me (here's why a website was right and blogging wasn't.) So I got Solo Build It, which led me by the hand through the wonderful journey of building this site.
And that's how come my kids and I go exploring all over town once more, while I can legitimately claim I'm working, too, researching the next article for this site. Although, to be honest, it feels more like playing …
And boy, did we get the magic back!


P.S. Click here to find out more about Solo Build It and how you, too, can build a website that can help you get your magic back.

I'm so impressed with Solo Build It that I'll be teaching a course in Jerusalem on how to start online business success - and keep it going. This Solo Build It Education course is called Build A Successful Business Using the Internet. Find out more!


Return from How I Came to Jerusalem to Jerusalem home page