The Best Jerusalem Tours:


Tour Jerusalem with An Experienced Israel Tour Guide
The best Jerusalem tours are the ones you take with a great tour guide, so it isn't surprising that one of the most frequent requests we get from visitors to this site is for Israel tour guide recommendations.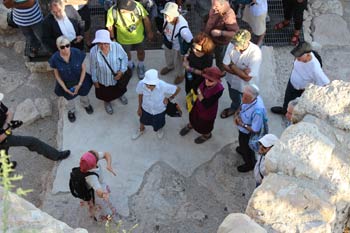 Yes, you can tour Jerusalem with a guide book and a good map. But Jerusalem is much more than meets the eye. To truly experience and understand the importance, the history, the flavor of what you see, you need a tour guide who can make the ancient past come alive, place the present in context and make the intersection of the two meaningful and relevant to you.
Thus, we offer you the opportunity to contact some of Jerusalem's best tour guides.
From the list below, click on the tour guide's name – this will open a new window where you'll find information about the guide's experience, his or her specialties, approach and philosophy and a contact form.
Use the form to ask your chosen tour guide about what sites he or she would recommend for you, your family and the people you'll be traveling with, based on your interests, available dates and prices.
The great advantage of good tour guides is that they can tailor your sightseeing tours based on your specific areas of interest, religion or hobbies, the ages of your children, and how active you want to be. They can thus design the perfect tours that are just right for you.
Our Recommended Israel Tour Guides

A journalist and a tour guide, Janet has guided in Israel for over 25 years, and she still enjoys showing the country to newcomers. Janet's in-depth tours are rich in content, and she brings the history and archaeology of Israel to life.
Suzanne guides tours of all kinds all over Israel: private individuals, families, small groups as well as shore excursions from cruise ships and agent-booked bus tours. Two of her specialties are a traditional Christian walk to the Mt. of Olives and Via Dolorosa and tours to Bethlehem.
Moshe Rothchild is a master communicator with years of experience as a teacher, informal educator and even as a stand-up comedian! His specialties include guiding families with kids, groups, tours off the beaten path, routes that follow the Biblical narrative, the four quarters of Jerusalem, and meaningful Jerusalem holy sites for Christians and Jews.
Shaul and Orah are experienced guides who specialize in tours of Jerusalem, especially from the Port of Ashdod. If you're arriving on a cruise ship, they'll pick you up at the port for exciting tours of discovery that feature the archeological, historical, and spiritual treasures of the Land of the Bible.
They also offer tours in French.

To have a better idea of what you'd like to see in Jerusalem, so you can have a more fruitful exchange with your guide, check out our suggested one-day Jerusalem tours.

Together, design the Jerusalem experience of a lifetime!

Jerusalem Tours: Israel Tour Guides > Jerusalem Home page.
---
Don't Miss What's New in Jerusalem!

Stay up-to-date with all that's new in Jerusalem and on this site. Subscribe to the RSS feed at the top of the navigation bar over on the left and you won't miss a thing.
And sign up for our free monthly newsletter to stay abreast of what's going on, as well as new discoveries, seasonal events, cool Jerusalem tours and exciting activities.

Subscribe to Our Newsletter