Kids Activities in Jerusalem
Finding the right kids activities is the key to successful Jerusalem travel with children.
Travel to Israel as a family can be one of the most rewarding experiences your kids can have. Not only is Jerusalem packed with kids activities that make Bible history come alive, there are so many things to do that are just plain fun!
Here's our list of the best activities for kids in Jerusalem – the ones we and our friends enjoy the most:
Jerusalem Scavenger Hunts

Jerusalem scavenger hunts offer a hands-on way to learn about Jerusalem neighborhoods. Designed for groups of four or more, the hunts are appropriate for all ages, starting from school-aged children to adults. You'll have loads of fun figuring out the clues, finding your way, and learning lots of cool facts in the process. This is one of our most highly recommended kids activities. Find out more about Jerusalem scavenger hunts or click here to read about our own Jerusalem scavenger hunt experience.
City of David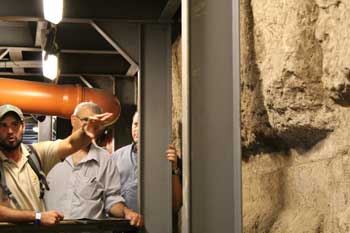 To make Bible history come alive in a concrete way, take the kids to the City of David. One of the coolest things to do here is to hike through Hezekiah's water tunnel, so make sure to bring the right gear along.
This has got to be one of my kids' all time favorite excursion, especially when they imagine themselves smuggling water into the city through the tunnel during the Assyrian siege.
Also at the City of David, the Temple Mount Sifting Project allows kids and adults to spend two hours as real-life archaeologists. You'll sift through rubble excavated from the Temple Mount itself, in search of artifacts from the Second Temple period. Archaeologists and guides at the site provide fascinating information about that time and guidance as you search.
There aren't many kids activities that allow you to touch the past in quite this way, and given the minimal admissions fee, it isn't one to pass up.
Call ahead to make reservations: 972-2-626-8700, or toll-free in Israel *6033.
Jerusalem Time Elevator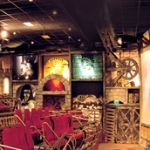 The Jerusalem Time Elevator is a full-body-experience movie starring Haim Topol (of Fiddler on the Roof fame) that traces 3,000 years of Jerusalem history, complete with the occasional water spray and moving chairs that make you feel as if you were flying. A unique experience, especially for older kids.
A word of warning – although you can supposedly adjust the motion of the chairs, the Time Elevator isn't for kids (or adults) who get motion sick!
The movie is about 40 minutes long and is shown daily from 10:00 to 17:00 Sun-Thur and 10:00 to 14:00 on Fridays.
37 Hillel St.,
Tel: 02-624-8381. Call to reserve and avoid waiting in the very long lines at the ticket booth only to find out the show you want and the next two after that are sold out (I speak from experience!) Be sure to arrive 15 minutes before the show.
Tisch Family Biblical Zoo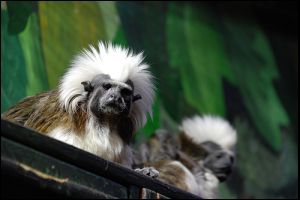 photo by Or Hiltch, courtesy of Flikr, ccby2

After trailing their parents through historical sites, children may appreciate a day or afternoon at the Tisch Family Biblical Zoo, where they visit the petting zoo, feed the animals, romp through the playground or climb Niki de Saint Phalle's fantastic sculptures.
As far as kids activities go, this one's never boring, no matter how often you go.
Hours: 9:00 to 18:00 Sun-Thu; 9:00 to 16:30 Fri.;10:00 to 18:00 Sat. Entrance is only until one hour before closing time.
Admission fee.
Bloomfield Science Museum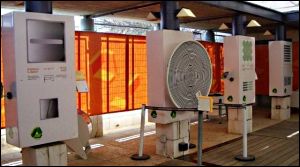 To propel kids and adults from ancient history into the future, nothing beats the Bloomfield Science museum, which packs an unbelievable collection of hands on, interactive exhibits for children of all ages.
Where else can you make your own lightning?
Hours: 10:00 to 18:00 Sun-Thur; 10:00 to 14:00 Fri; 10:00 to 15:00 Sat.
Hebrew University, Givat Ram Campus.
02-654-4888.
Israel Museum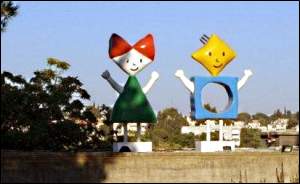 Although they might not sizzle as much  as the exhibits at the Bloomfield Science Museum, don't miss the Youth wing of the Israel Museum, nor the model of first century Jerusalem.
Admission is free for kids on Tuesday afternoons and there are often workshops and special  arts and crafts kids activities.

Botanical Gardens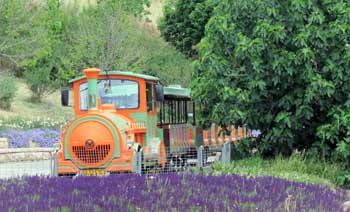 If the kids need a quiet place to calm down and walk around in lovely surroundings, spend an hour or two at the Jerusalem Botanical Gardens. There's a little train to take you around and a restaurant by the lake where you can have lunch.
Bird Observatory

Israel is a major stop on the migration route for millions of birds that travel between Europe and Africa.  Take a tour of the Bird Observatory and learn about migratory birds and other local wildlife.
Contact the observatory directly to schedule a night hike - an unusual opportunity to observe nocturnal birds.

Segway Tours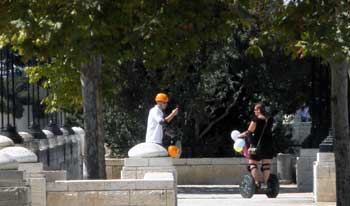 If you have teens, see Jerusalem by Segway!  Explore some of the city's most scenic areas while riding one of these funky motorized ... things ... and add an element of action fun to your sightseeing.  For kids 16 and over only. You'll find Segway rentals at the First Railway Station.

First Railway Station

The First Railway Station has many activities the whole family may enjoy.  There are bike rentals of all sorts, from electric bikes to tricycles, Segways and tandems and a lovely bike trail. 
Restaurants, a juice bar and ice cream shop provide refreshments.  There is often live music and whole schedule of events.
And for younger kids, there's a children's pavilion with play areas and even a bubble station!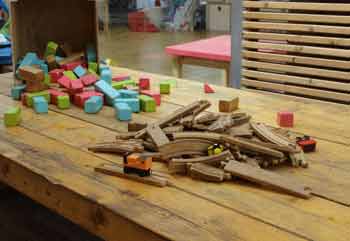 Parks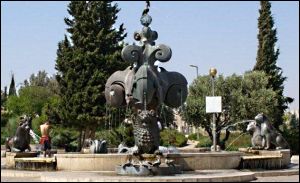 Traveling with small children means you'll have to take frequent breaks to let them loose and romp around. Fortunately, Jerusalem boasts some lovely parks.
Near the city center, Sacher park offers vast expanses of greenery and a number of different playgrounds.
Liberty Bell park's playground also includes a special area for roller skaters, and is home to the Puppet Theater. On a hot day, let the kids dip their feet in the fountains across the street.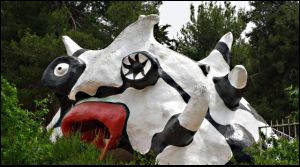 Further afield, you'll find a Jerusalem landmark – Monster park, while on the other side of town, Gilo park is a lovely place for a picnic and to let the children stretch their legs on the way back in town from a visit to Bethlehem.
More Kids Activities

The list of things to do with kids in Jerusalem is practically endless.  Whether you're into horse riding or making jewelry, there's a place to go.  There's mini-golfing, bowling and even rappelling. We have a world-class puppet theater, challah-baking, chocolate-making and paintball. 

Jerusalem mom Shebet over at funinjerusalem.com has put together a list of the 100 top family activities in Jerusalem.  Check it out - there's bound to be something there that engages your kids!
Also be sure to check our Jerusalem Events Calendar and the various Jerusalem museums for more seasonal activities kids activities, performances or special exhibits.
Jerusalem
› Kids' Activities in Jerusalem
---
---
Don't Miss What's New in Jerusalem!

Stay up-to-date with all that's new in Jerusalem and on this site. Subscribe to the RSS feed at the top of the navigation bar over on the left and you won't miss a thing.
And sign up for our free monthly newsletter to stay abreast of what's going on, as well as new discoveries, seasonal events, cool Jerusalem tours and exciting activities.

Subscribe to Our Newsletter