Travel to Jerusalem with the Experts

Introduction to Jerusalem:
A Guide to the Holy City
With Introduction to Jerusalem: A Guide to the Holy City, you'll travel to Jerusalem with confidence. Our compact guidebook is the perfect companion for those who have only a few days to visit Israel's capital. We help you make the most of a short stay while making sure you enjoy it, too!
** Special Price: Only $2.99! **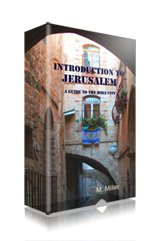 Only $2.99 (ex. VAT)
Normally $3.99!
Jerusalem is one of the most fascinating destinations you'll ever visit. You could spend months here and still barely scratch the surface of all there is to discover.
Most people don't have months, however – just a few days, if they're lucky. To help you make the most of your time here, I've put together this guide to help you plan your trip, based on the questions people most frequently ask us.
If you have questions like:
How do I get there from the airport?
What major sites should I not miss?
How do I change money?
Is it safe?
What's the best time to travel to Jerusalem?
Where can I grab a quick bite to eat?
This book will answer them – and many more.
Introduction to Jerusalem will help you prepare for your trip, tells you where to go, what to see and how to make the most of your trip.

Who Is This Guide for?
If you want to know what to expect when you travel to Jerusalem, and like to decide for yourself what you want to do – then this book is for you, whether you want to visit Jerusalem on your own, or be able to tell a tour guide what's tops on your must-see list.
If you want an organized tour, where everything is fully arranged for you, you might be better off contacting a travel agent – but at least, armed with this book, you'll have a better idea of what you're in for!
After reading this guide you should be able to decide:
How to prepare for your trip
What to pack
When you will go,
How you will get around,
What you want to see and do while here.
I downloaded this modest, informative little book and all the suggestions were useful. The background information was interesting and the guide to sightseeing and getting around was all I needed to know to get the most out of my week-long visit …
There are good tips on what to pack, getting around the city, what to do, and what to see, and even a few Hebrew phrases that proved to be surprisingly useful.
Some travelers will undoubtedly prefer a comprehensive, detailed guidebook, but for me – and I suspect for many visitors to Jerusalem – this quick read was just right: a brief, handy introduction presenting basic information, valuable advice, and an essential briefing for the casual tourist on what to see and where to go.
Combine this Introduction to Jerusalem with a good street map … and you're ready to set off on your own.
- Bea Trap, Virginia

Why an E-Book?
Why should you buy an e-book rather than a printed book? Here's why:
The biggest advantage of an e-book is the instant delivery. You have your book right away – no waiting for mail delivery, and best of all, no packaging or shipping to pay for.
Publishing a hard copy guide book and distributing it to bookstores takes a long time. The information in travel guide books is usually at least one year old, often older. But this e-book is updated all the time and has current information and prices for 2013 – you'll have the latest information at your fingertips.
An e-book combines the best of both worlds – you get embedded links for easy online searching, the most up to date information, and easy mobility. Consult it from your PC, e-book reader, iPad, or just print it out and take it with you!

Ready to Order and Travel to Jerusalem With Confidence?

Buy Introduction to Jerusalem, now for a limited time only at the special price of $2.99 (Plus VAT for Israeli residents).
You get 66 freshly updated pages, packed with current insider information and color photographs.
AND...
A 100% unconditional 30-day money-back guarantee!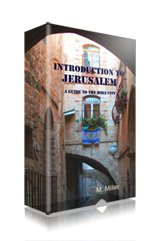 Buy the e-book
On Sale Only $2.99 (ex. VAT)
Normally $3.99!

This e-book is in Adobe PDF file format. If your computer doesn't have the Adobe Reader software, you can easily install it for free.
If you decide the Introduction to Jerusalem e-book is not for you, just say so and you'll receive a quick and courteous refund. No questions asked.


What happens once you click the "Add to Cart" button:
You will be taken to a secure order form. You can pay via PayPal or credit card. Upon completion of payment you'll be directed to a secure download page where you can download Introduction to Jerusalem. If this does not happen automatically, just click the orange button that says "Complete your purchase". Don't worry if you forget to click the button. You will also receive an email with the download link.
If anything goes wrong or you have any trouble accessing your e-book, just contact me and I will help you with it.
PS:
I am confident that this e-book will be a help to you, but should you really disagree, then I will refund you straight way. Your satisfaction is guaranteed. If at any time within 30 days from buying this e-book you decide that you made a mistake, that the guide is not what you expected, then you just email me and I return your money instantly, no questions asked.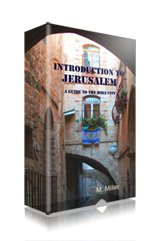 On Sale Only $2.99 (ex. VAT)
Normally $3.99!
Take us with you and travel to Jerusalem with confidence!


Jerusalem
› Travel to Jerusalem:the Guide Book
---
Don't Miss What's New in Jerusalem!

Stay up-to-date with all that's new in Jerusalem and on this site. Subscribe to the RSS feed at the top of the navigation bar over on the left and you won't miss a thing.
And sign up for our free monthly newsletter to stay abreast of what's going on, as well as new discoveries, seasonal events, cool Jerusalem tours and exciting activities.

Subscribe to Our Newsletter