Jerusalem Tours:
Walking Discoveries


Discover Jerusalem tours that take you off the well-worn tourist track and into the heart of quaint, historical neighborhoods. Walking tours offer you an intimate way to get to know an area – its stories, its architecture, ambience and its people.

The best way to experience Jerusalem is on foot, especially when you have an experienced guide with you to make it all come alive for you. Unlike large organized bus tours, a private guided tour allows you the luxury of going at your own pace, taking the time to linger over what really grabs you, and the opportunity to ask questions.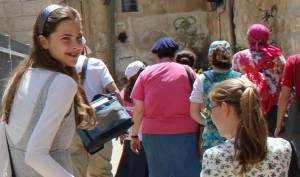 Smiling faces on a Jerusalem walking tour through Nahlaot
There's no better way to really get the most out of a visit, and that's why we recommend them so highly. We live here – and we still take guided Jerusalem tours now and again to deepen our understanding of a neighborhood or of a certain aspect of Jerusalem. (And also at times to know whether or not we can recommend the tours to you!)
So ... if you've climbed the ramparts of Jerusalem, walked through the four quarters of Jerusalem and visited her Old City and the Western Wall countless times (and even if you haven't yet), maybe what you need is an in-depth tour of a neighborhood, stopping to talk to the shopkeepers, learning about the history and the cultural make-up of the community?
Let us introduce you to walking tours of different Jerusalem areas that will give you a good look at particular areas, based on history, architecture or even literature.
Walking tours are fun family activities – and you'll learn a lot, too!
If you love to take pictures as you stroll, check out photography tours in Israel that focus on Jerusalem (and Tel Aviv, too, if you like!).
Scroll down for more details or click here to book a tour.


Nahlaot and Mahane Yehuda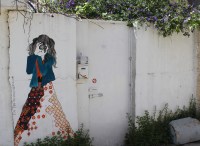 These two historic neighborhoods are just a short walk from most of the city's main hotels, but walking through them is like stepping back in time to Jerusalem of a hundred years ago.
Mahane Yehudah is home to a vibrant and colorful fruit and vegetable market, while Nahlaot is home to a thriving artists' colony.
Join us on a walking visit of these areas built at the turn of the 20th century with the help of Moses Montefiore.
On this Jerusalem tour, you will see how the ultra-Orthodox Jews still live in close communities, neighboring the hip under-35-year-olds set who also favor these areas and who have helped to put central Jerusalem on every tourist's map. These neighborhoods are the most popular in town, home to students, struggling artists as well as new immigrants and religious communities.
At the conclusion of the tour, you can easily head to close-by Jaffa Road to catch the light rail which can whisk you up to Mt. Herzl and Yad Vashem or drop you off near the walls of the Old City.
Bring string bags for shopping as well as a healthy taste for sampling spices, cheeses, first fruits and new products.


German Colony Walking Tour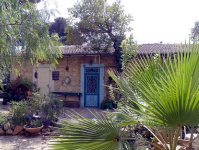 Over a hundred years ago, this outlying site was home to Greek and German colonies founded in the mid 1800s. German Protestants and Greek Orthodox communities chose this area to build their homes in the Holy Land. They left their mark in an architecturally very interesting neighborhood.
Today, the area boasts some of Jerusalem's most stylish cafes, restaurants and shops.
Enjoy this easy flat stroll with lots of shade as well as interesting stories.


Ein Kerem Walking Tour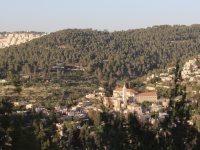 Far too many people leave Jerusalem without even a glimpse of Ein Karem, this picturesque neighborhood with terraced hills and churches of yore.
According to Christian tradition, Ein Karem, whose name means "the spring of the vineyard", was the home of Elizabeth and Zechariah. Elizabeth's first cousin Mary and her husband Joseph were en route to Bethlehem over 2,000 years ago to be counted in a census, and they stopped to visit the family.
One of the most beautiful churches in the Holy Land is the Church of the Visitation, built on a hill of Ein Kerem. We will also visit the Church of the Visitation as well as the still-flowing Mary's Spring.
Ein Karem is also home to an artist's colony and a very well regarded music center.
Yes, there will be time to visit unusual art galleries and even an artisanal chocolate shop!


Talpiot – Jerusalem's First Garden Neighborhood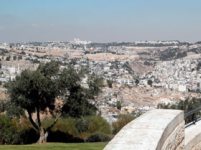 If you take into consideration the thousands of years of Jerusalem's history, the neighborhood of Talpiot founded in the 1920's is a mere youngster.
Known as Jerusalem's first garden suburb, it was the home of Israeli Nobel Prize winner Shai Agnon. It also offers stunning view of Jerusalem from the Haas Promenade.
Today this green, attractive southern neighborhood seems to be encroaching onto the grounds of Kibbutz Ramat Rachel, but in this Jerusalem tour we will learn about some of the area's first residents and their fascinating tales.


---

These Jerusalem tours are crowd pleasers for individuals, couples, families or whole groups of people.
All tours last about 2 to 3 hours.
Please fill in the form below for more details or to arrange one or more neighborhood Jerusalem tours for your family, friends or colleagues.




Return to Jerusalem Tours

Home page