Jerusalem History:

The Heart of Israel History, the Landscape of Bible History


When you set out to discover Jerusalem history, you are embarking on a unique adventure.



It is Jewish history. It is Bible history. It is at the center of modern Israel history.

It is, as Benjamin Disraeli put it, "the history of the world … the history of earth and of heaven."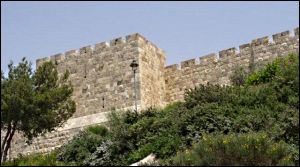 The stones of ancient Jerusalem are visible to this day and testify to 3,000 years of Jewish presence here.

Some of the pavement stones are the ones walked on by Jesus. But far from being a city of ruins, Jerusalem is still a vibrant, modern capital, where the history of tomorrow is in the making even as we speak.
The history of Jerusalem begins at the dawn of time: there has been a city for over 5000 years.
Here, you'll find some resources to help you discover our fascinating story.
For a global overview, we've put together a Jerusalem history timeline with a parallel world history timeline.
See the city's history reflected in the many names of Jerusalem.
And for more on specific periods in the history of Jerusalem, follow the links below.




Return to Jerusalem Home page