Jerusalem Tours
Put on your walking shoes and let's go!
Our best one-day Jerusalem tours: After years of backtracking all over town, we've fine-tuned our one-day tours to hit all the hot spots in a few hours without burning you out. You want to enjoy the experience, not spend the day sprinting from here to there!
We're going to cover the must-see sights you'll want to include in any itinerary and the many ways at your disposal to organize your sightseeing.

Because so many visitors have only a day or two to experience our city, we're going to start with one-day tours – what to see and how to do it – when you've only got 24 hours to cover 3,000 years of history.
If you are fortunate enough to have more time to savor Israel's capital, then we have suggestions for you too.
Here's what you'll find here:
Must-do sites / Tour Guides / Organized Jerusalem Tours /
Must-Do Sites to Include
Whether you decide to tour Jerusalem solo, with an organized group or with your own tour guide, you'll want to make sure any itinerary you decide on will include certain basics:
The Western Wall, the last remnant of the Temple, Judaism's holiest site

The Via Dolorosa and the Church of the Holy Sepulchre where, according to Christian tradition, Jesus was buried

The Dome of the Rock - Islam's oldest shrine
Fortunately, these important Jerusalem holy sites are all in the Old City in walking range of each other, so that's the place to start.
Begin your day by visiting these four places and exploring the picturesque alleyways. Depending on how in-depth you want your visit to be, you can get to all of them in one morning and still have the afternoon left over for something else (like souvenir shopping!); or you could spend a full day experienceing just one of them.
When you're done with the tour of the Old City, you may want to browse through the colorful shuk near Jaffa Gate, make your way back to the Jewish Quarter plaza for a light lunch or go to the Cardo for some souvenir shopping.
If you're doing Jerusalem in a day, once you've covered the sites above in the morning, set aside the afternoon to sample a bit of what modern Jerusalem outside the walls has to offer.
Can't bear to leave the Old City and want more? (Who doesn't?) Then stick around and enjoy one or more of the top ten Jerusalem Old City sites. To get a taste of these sites in context, it's worth exploring the area as a whole, so enjoy walking from one quarter to the next.

Jerusalem Tours
You could walk through the city on your own with just a good map of Jerusalem but many people find that they need a guide of some kind to make it all come alive. You have several options here: private tour guides, organized tours, and do-it-yourself tours.
Israel Tour Guides
To get the most you possibly can out of your sightseeing, we suggest you contact one of our recommended Jerusalem tours guides.
Nothing beats having your own licensed Israel tour guide to whom you can ask questions.
You can hire guides for a day or just a few hours. They'll tailor an itinerary just for you, based on your and your family's specific interests. We have English-speaking and French-speaking guides available.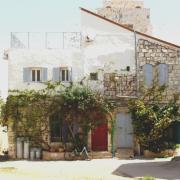 If you've already done the standard tours, consider some of these select neighborhood Jerusalem walking tours.
These tours with a private guide take you through some of our most picturesque neighborhoods, such as Nahlaot or Ein Karem. You can shop Machane Yehuda, the famed open air produce market, or taste artisanal chocolates in the Jerusalem forest, to name just two of the many enchanting possibilities.
If you tote your camera with you everywhere, always on the look out for the perfect shot, check out photography tours in Israel, especially in Jerusalem and Tel Aviv.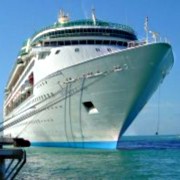 For those of you arriving to the Holy Land on a cruise ship, consider a privately guided shore excursion to Jerusalem. Cruise ships usually offer their own group shore excursions, but they can be very expensive and rushed.
It can often be a better choice to get your own tour guide to pick you up at Ashdod Port and take you to see exactly what you want to see.
Jerusalem Tours: Organized Group Tours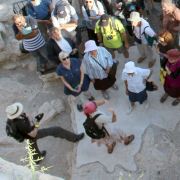 Another option is to join an organized group for a guided tour. Joining a group is a more economical way of benefiting from the knowledge and expertise of a licensed Israel tour guide.
We recommend a variety of tours to help you explore Jerusalem in the way that speaks to you, from religious pilgrimage to fun sporting activity. These selected tours of Jerusalem include bus tours, walking tour - and even Segway tours!
Scavenger Hunts
If you're traveling with a family or small group and are looking for an exciting morning's fun while discovering Jerusalem in very hands-on way, we highly recommend you participate in any one of several Jerusalem scavenger hunts.
This unique activity leads you through Jerusalem neighborhoods in search of clues, history and fascinating mysteries. And loads of fun!

Jerusalem mp3: Our Favorite Audio Tours
Our favorite way of touring the Old City (and the cheapest, too) is to download the relevant tours from the Jerusalem Municipality website. They offer free mp3 downloads for about a dozen Jerusalem tours.
The audio quality of the files is very good and the information is provided by Yad Ben Zvi, the most prestigious Israeli institution for Jerusalem studies.
The tours will take your through the Armenian quarter, the Jewish Quarter, the Western Wall, near the Dome of the Rock, along the Via Dolorosa, to the Church of the Holy Sepulcher, the Room of the Last Supper, Dormition Abbey and King David's Tomb.
We've figured out how best to combine the tours into a one-day walking tour that covers most of the Old City in a time-efficient circuit. Follow our detailed instructions for downloading and using the Jerusalem mp3 tours. (Otherwise, you'll finish one tour at the opposite end of the city from where you want to start the next one.)

On Your Own: DIY Jerusalem Tourism
If walking around Jerusalem with ear buds and an ipod is not the way you want to discover the Holy Land but you still prefer to do it yourself, then we highly recommend you download Introduction to Jerusalem: A Guide to the Holy City.
Our book covers all you need to know to get the most out of a short visit. (This is not just a shameless plug - we really are confident you'll find it very useful!)
Take that and the free map that's available from the Tourist Information Office and you're good to go. There's a Tourist Information Office at Ben Gurion Airport if you want to pick one up when your arrive, and another just inside Jaffa Gate in the Old City.

Your Favorite One-Day Jerusalem Tours
What You Would Do If You Only Had One Day ...
Click on the links below to see what Jerusalem tours other people would do if they only had one day ...

Visit Ancient Ship Painting

Image courtesy of HolyLandPhotos.org I would visit the 'ship' painting in St. Vartun's Chapel in the Church of the Holy Sepulchre. This chapel …
---
Jerusalem
› Jerusalem Tours
---
Don't Miss What's New in Jerusalem!

Stay up-to-date with all that's new in Jerusalem and on this site. Subscribe to the RSS feed at the top of the navigation bar over on the left and you won't miss a thing.
And sign up for our free monthly newsletter to stay abreast of what's going on, as well as new discoveries, seasonal events, cool Jerusalem tours and exciting activities.

Subscribe to Our Newsletter