Israel ScaVenture's
Jerusalem Scavenger Hunts
One of the Best Group Activities in Jerusalem

Jerusalem scavenger hunts are an exciting, hands-on way to discover Jerusalem.
Israel ScaVentures is the brain child of experienced educator Tali Tarlow. The company's selection of adventures offers some of the best group activities in Jerusalem.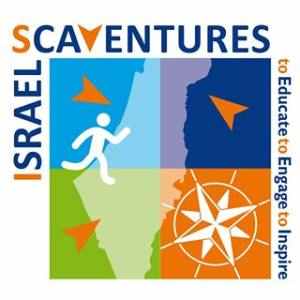 Click here to book your Israel ScaVenture Scavenger Hunt now.

Each scavenger hunt sets you loose in a specific neighborhood, armed with instructions, a map, educational and detecting materials to help you discover the area in a fun-filled way.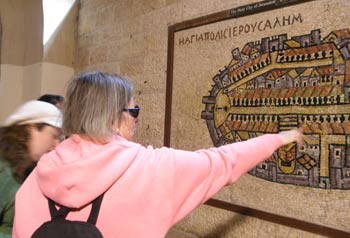 Scavenger hunt participants study the Madaba Map for clues.
These hunts are an ideal activity for a wide variety of audiences and appeals to school-aged children, singles groups or adults in equal measure. Hunts can be organized for family groups, tourists, college students, seminaries, corporate field days, or school groups. If you're looking for activities for teens, it's the perfect thing to do.
Israel ScaVentures organizes several "open" hunts during peak seasons like the intervening days of Passover and Sukkot, and the summer holidays, when anyone who shows up may participate. This gives singles, couples and small families a chance to join in on the fun. (Be sure to check when the next Jerusalem Scavenger Hunts Open Events are scheduled - they fill up fast!) 
Otherwise, a minimum of four people is required to book a private hunt.

Jerusalem scavenger hunts take between two to three hours to complete – depending how quickly or leisurely you choose to go. Larger groups are broken up into teams, which lends a bit of competitive edge to the game as well – see who can finish first. Team members are assigned roles – team leader, photographer, detective and scribe among others. To keep things interesting, although the teams must find the same sites, they get different trails to follow.
The trails take you through unusual byways you wouldn't normally see, and you'll learn many of the personal stories – moving or quirky – that make a place come alive. You'll also be challenged to integrate these stories of Jerusalem with your own stories and points of view.
The programs are thoughtfully designed to encourage  "hunters" to really engage with their environment in a meaningful way. The goal is not only to see a site, but to examine what that locality or story means to you, what you find inspirational about it, what you can take home with you from the experience. This is not only a scavenger hunt through Jerusalem but one into your own heart as well.

To read more about our own Jerusalem scavenger hunts experience, click here.
 Israel ScaVentures'
Jerusalem Scavenger Hunts

Click here to book your Israel ScaVenture Scavenger Hunt now.
Old City Scavenger Hunt

The Old City Scavenger Hunt leads you through the Jewish Quarter, discovering fascinating untold secrets. Tales of inspiring people, remains of ancient places and over 3000 years of Jewish history come to life as you explore the Old City, only to discover that throughout the game, you have been fulfilling the words of an ancient prophecy.
Old City Scavenger Hunts are available in English, Hebrew, French or Spanish. Please specify when booking.

Trying to find the answer ...
---
Nahlaot Scavenger Hunt
Discover the stories of some of Jerusalem's pioneering inhabitants in Nahlaot, one of the city's most eclectic neighborhoods.  You'll navigate through charming alleys and past artists' studios and peek at Mahane Yehuda, Jerusalem's market to find the answers to your challenge.

---
Yemin Moshe Scavenger Hunt

Find out how a frontier neighborhood became one of Jerusalem's most beautiful places through the fabulous story of the daring expansion of Jerusalem beyond the Old City. Wander from the Montefiore Windmill through the winding alleys of Yemin Moshe with an Israel ScaVentures mission pack is a unique Jerusalem experience.
---
Jerusalem Watchman Scavenger Hunt
Designed specifically for Christian pilgrims this adventure gets you exploring Mount Zion through the prism of Biblical text and modern reality.  Wandering through the ancient alleyways, you will bear witness to the fulfillment of ancient prophecy every minute, every day in Jerusalem.
---
Gush Etzion Scavenger Hunt
Gush Etzion, right outside Jerusalem, is the cradle of our heritage.  This jeep-driven tour game leads you to springs and caves, and even underwater tunnels, deep into Jewish history, following the path of the Patriarchs.  This is an adventure in every sense of the word, so come prepared for mud, dirt, water and inspiration aplenty!

---
Shuk Dash
---
Jerusalem
› Jerusalem Scavenger Hunts
---
Don't Miss What's New in Jerusalem!

Stay up-to-date with all that's new in Jerusalem and on this site. Subscribe to the RSS feed at the top of the navigation bar over on the left and you won't miss a thing.
And sign up for our free monthly newsletter to stay abreast of what's going on, as well as new discoveries, seasonal events, cool Jerusalem tours and exciting activities.

Subscribe to Our Newsletter