Photography Tours in Israel

Photography tours in Israel let you focus on the country through a different lens. Camera in hand, you tour Israel with an eye to finding the perfect shot.  History, archaeology, religion, hi-tech and surf all swirl together in this unique land, so the opportunities for stunning, emotional or artistically inspiring photographs abound.

Panorama of the Old City of Jerusalem, by grad365, ccby3.0

Besides which, it's lots of fun.  Everyone travels with a camera these days, but being guided by a photography expert can take your trip – and your pics – to a whole new level.
Whether you already wield your camera with expertise or all you can do is point-and-shoot, these tours take you to out of the way places and teach you to see the world around you in a whole new way. 
Photography Tours in Israel: Jerusalem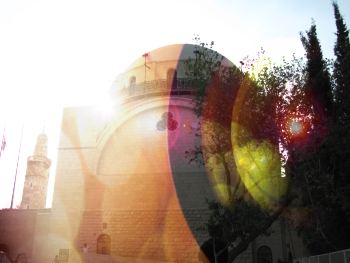 This is the heart of Israel and, of course, Jerusalem photo ops are waiting here for you at every corner. 
Jerusalem Photography Walks are for both amateur photography enthusiasts and professionals. The small group size and slow pace allow you time to set up and really get those special shots.  You'll go home with photos of Jerusalem you'll treasure forever.
These guided walks, led by photojournalist Sharon Altshul, usually follow two different itineraries.
One takes you through the Rose Garden near the Knesset, Israel's Parliament building, to the Jerusalem Bird Sanctuary, for an inner city tour that focuses on nature, wildlife – and iconic government buildings.
The other walk meanders from Liberty Bell Park through the picturesque alleys of Yemin Moshe, ending up at the Montefiore windmill.
Sharon will tailor tours to your specific interests, whether it's macro photography of flowers by cell phone camera, or panoramic landscapes with high end photographic equipment. 
If there's a specific place you want to  capture, let her know what you're looking for in terms of photography tours in Israel, and she'll work out a Jerusalem itinerary with you that fits your needs.

Tours generally take place in the later afternoon when the light brings out the famed magical tones of Jerusalem of Gold.

All you need are your camera and a pair of walking shoes.
The walks are suitable for children over age 10 with camera.
Group members who aren't necessarily photography buffs can happily tag along to enjoy the great views and fascinating history.

Cost: 50 shekels per person or 250 shekels per family/group
Follow Sharon's blog about everyday life on the "Real Jerusalem Streets" at rjstreets.com.  Her columns and photographs frequently appear in the Times of Israel and she's a regular contributor to Baltimore Jewish Life.

More Jerusalem Tours

Jerusalem

>
Jerusalem Tours
> Photography Walks
---
Don't Miss What's New in Jerusalem!

Stay up-to-date with all that's new in Jerusalem and on this site. Subscribe to the RSS feed at the top of the navigation bar over on the left and you won't miss a thing.
And sign up for our free monthly newsletter to stay abreast of what's going on, as well as new discoveries, seasonal events, cool Jerusalem tours and exciting activities.

Subscribe to Our Newsletter