Experience the Holy City
Jerusalem
and the many fascinating Jerusalem Old City sites

Experience the Holy City Jerusalem's heart, the spiritual home of three great religions.
The built-up Jerusalem is like a city that is united together ... May there be peace within your walls, serenity within your palaces. (Psalm 122)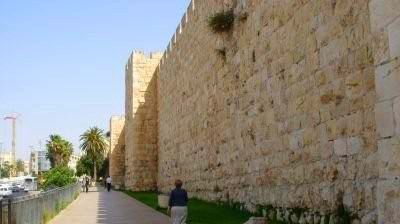 Mystical occurrences ... "chance" encounters ...

Caress stones worn with the cares and tears of centuries; slip your prayer between the cracks ...

The frenetic energy of the bustling Arab shuk crackles in shadowy byways. You finger colorful textiles, exotic beads ...

Wander a bit and the light shifts ... you stumble into unexpected pockets of quiet serenity.

Follow in Jesus's footsteps through the holy city Jerusalem. Meditate in the stillness of an Armenian sanctuary.

Step through the gates into the Old City and you enter another world, one where the mundane and the mystical are one.

The holy city, Jerusalem 's heart, has its own pulse. Walk through its alleys and feel its beat resonate in your own heart...

Seven gates lead through Jerusalem's ramparts - the eighth is sealed and tradition says it will remain so until the coming of the Messiah. Within the walls, the old city is divided into several quarters:
| | |
| --- | --- |
| Jewish Quarter | Christian Quarter |
| | |
| --- | --- |
| Muslim Quarter | Armenian Quarter |
Each quarter of the old city has its own flavor, its own unique sites.
If you'd rather cut to the chase, however, and head to specific sites than tour the individual quarters, here's our list of the 10 best Jerusalem old city sites to visit - after you've been to the Western Wall, the Temple Mount and the Holy Sepulcher and Golgotha, of course.


You might also consider climbing the walls of Jerusalem on the Ramparts Walk for a bird's eye view.
And don't skip the newly rebuilt Hurva synagogue, nor some of my favorite rooftop observation points, from which to enjoy the Old City's Jerusalem skyline.

Things are always changing or being discovered here. Nowhere is this more true than at the City of David. Don't miss it, especially if you're in town during its annual Biblical Archaeology conference, which showcases the latest findings from its excavations.
Don't miss anything!
Stay up-to-date with all that's new in Jerusalem and on this site - subscribe to the RSS feed at the top of the navigation bar over on the left.


Jerusalem
› Holy City
---
Don't Miss What's New in Jerusalem!

Stay up-to-date with all that's new in Jerusalem and on this site. Subscribe to the RSS feed at the top of the navigation bar over on the left and you won't miss a thing.
And sign up for our free monthly newsletter to stay abreast of what's going on, as well as new discoveries, seasonal events, cool Jerusalem tours and exciting activities.

Subscribe to Our Newsletter