The City of David
The City of David is one of Jerusalem's most fascinating sites and one of its top two tourist attractions.

This may be the site of King David's palace.  It is also famous for Hezekiah's Tunnel, a water tunnel carved through rock that leads to the Shiloah Pools.  Hiking through the tunnel is a great family activity, especially in the summer, when the water's warm. But this place is much more than the tunnel.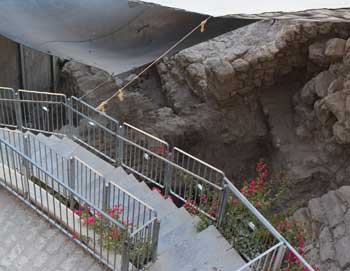 The area is located to the south of the Temple Mount, outside the Old City walls. It is one of the world's most fertile active excavations for Biblical archaeology, with significant historical findings announced several times a year.
In the recent years, it is here archaeologists claim to have found the palace of King David, the palace of Queen Helene, bullae mentioning Biblical government ministers by name, the first archaeological mention of Bethlehem dating to ancient times – even a fragment of a letter intended to be sent to Egypt in an era long before Jews conquered the area, a letter very similar to the Tel Amarna letters. And that's just a sampling … (Read more about recent discoveries here announced at the latest annual Biblical Archaeology Conference.)
This is a place that can be visited again and again, for every year there is something new to discover.
Beneath the visitor center at the entrance lies an Iron Age building that could be the palace, along with remnants of a wall built by Nehemia and one built by the Jebusites, before David. There are Canaanite findings, Hellenistic ones, Roman ones, Byzantine and more, layered in bewildering physical evidence of Jerusalem's complex and multifaceted history.
Be prepared to walk, whether you hike the water tunnel or not. Bring a sunhat, comfortable shoes and plenty of water. And make sure you come equipped to make hiking Hezekiah's tunnel a successful experience.
There is a refreshment stand on the premises, and a gift shop that specializes in reproductions of some of the findings from the excavations. You'll find jewelry based on a Roman earring and necklaces boasting a bell similar to one that might have fallen from the vestments of a Temple priest, as well as lots of lovely books about the excavations – most of them, unfortunately, in Hebrew only.
Hours: Sun-Thu: 08:00-17:00 (19:00 in the summer) Fri: 08:00-14:00 (16:00 in the summer)
City of David Tours
For self-guided tours or other activities and events, check their website here.
Top Rated Jerusalem Tours

Jerusalem

>

Best Old City Sites
> City of David
Jerusalem

>

Kids Activities



---
---
Don't Miss What's New in Jerusalem!

Stay up-to-date with all that's new in Jerusalem and on this site. Subscribe to the RSS feed at the top of the navigation bar over on the left and you won't miss a thing.
And sign up for our free monthly newsletter to stay abreast of what's going on, as well as new discoveries, seasonal events, cool Jerusalem tours and exciting activities.

Subscribe to Our Newsletter