Mahane Yehuda
Mahane Yehuda is Jerusalem's famed open air food market, a bustling, fragrant, delicious treat to the senses.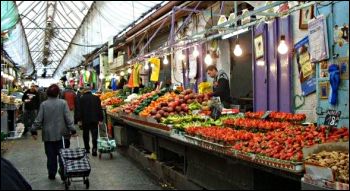 The market occupies several streets and dozens of alleys, some of which have been enclosed with a roof, to protect shoppers from the elements. You'll find colorful displays of vegetables and fruits, mounds of halva (a sesame seed based confection), stalls that sell a dozen different varieties of olives, sacks of spices, breads of every description, as well as tanks of live fish, cases of fresh cheeses and butcher shops. Among all this, candy counters, kitchen wares, clothes and knitting yarn all vie for attention, too.
In recent years, the area has become a draw for artists and performers.  There are fairs and events here several times a year.  In addition, a slew of gentrified little restaurants have opened up, rubbing shoulders with the olive and halva stalls.  They are necessarily small in space, but huge on flavor!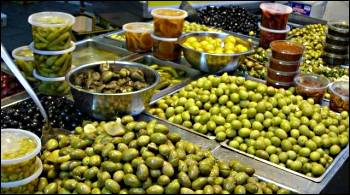 The ambiance alone is worth a visit. If you want to stroll leisurely among the stalls, pick a day early in the week. By Thursday morning, people start shopping for the Sabbath and Thursday nights and Friday mornings are packed with people doing last minute errands.
If you have the time, though, early Friday afternoon is also a fun time to visit. As it gets closer to closing time, vendors trying to unload their fresh produce start dropping their prices. One will hawk his tomatoes at a reduced price and a competitor down the alley will hear him and start hawking his own at half a shekel less – and so on down the street.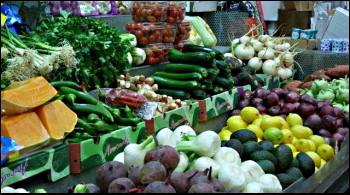 When I was a penniless student, my roommate and I would purposefully put off our Shabbat shopping until Friday afternoon so we could get the lowest prices possible and then race home with our loot to quickly make our Shabbos salads and vegetables.
Fun memories, perhaps, but a leisurely stroll earlier on in the week is definitely much more pleasant. Go around lunch time and you can treat yourself to some samples from the various stalls, or finish your tour on Agrippas Street, where you'll find several Israel fast food places that serve up fairly decent falafel.
Tours of Mahane Yehuda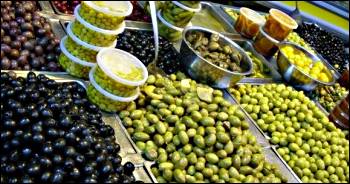 The best way to see Mahane Yehuda, however, is with a guided walking tour through the shuk.
You'll get to taste all sorts of interesting things and discover the colorful stories of the place where fresh, delicious food brings everyone companiably together!

Jerusalem

>

Modern Jerusalem
> Mahane Yehuda
Jerusalem

>

Jerusalem Walking Tours
Jerusalem

>

Nahlaot
---
Don't Miss What's New in Jerusalem!

Stay up-to-date with all that's new in Jerusalem and on this site. Subscribe to the RSS feed at the top of the navigation bar over on the left and you won't miss a thing.
And sign up for our free monthly newsletter to stay abreast of what's going on, as well as new discoveries, seasonal events, cool Jerusalem tours and exciting activities.

Subscribe to Our Newsletter