The Hurva Synagogue


The Hurva synagogue is a symbol of Jerusalem's indomitable spirit and the Jewish people's tenacious desire to claim its rightful land. In its 300 year history, the building has been twice razed to the ground and twice, undaunted, rebuilt.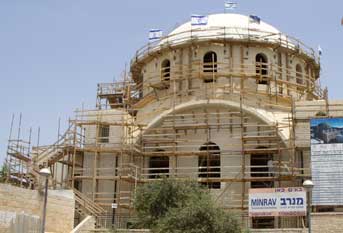 2009
The rebuilt synagogue was opened on March 15, 2010, after 8 years of construction and more than 40 years of hesitation. But it has once more reclaimed its place as the center of the Jewish Quarter.
The location has long been an important Jewish site. Archaeological studies have found remains dating from the First and Second Temple periods. Three rituals baths dating from the 1st century lie here, and tradition has it this was the site of a synagogue as early as the days of Rabbi Yehuda HaNasi (2d century CE).
In 1701, Polish immigrants to Jerusalem began building a new synagogue on this location. It took twenty years, but when the building committee went bankrupt and defaulted on its loans, Arab creditors stormed the synagogue and completely destroyed it. They also expelled all Asheknazi Jews (Jews of European origin) from the city, for good measure.
The building lay in ruins (Hurva means ruins) for over 100 years. When the Ottomans once again allowed Ashkenazi Jews to live in Jerusalem, they return and, with the support of Sir Moses Montefiore, the Rothschild family, and Jewish communities as far flung as India, Bagdad and Egypt, began to rebuild.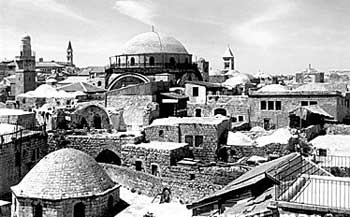 c. 1935
The resulting synagogue was the tallest building in Jerusalem for the next 80 years. It became a central place for important gatherings and the symbol of Jewish communal life in Jerusalem.
The symbolism of the place was not lost on Israel's enemies. On May 28, 1948, the Jewish Quarter fell to the Jordanian Army. The Jordanians immediately expelled all Jews from the Old City and that afternoon, a mere hours after conquering the Jewish Quarter, they plundered its precious ritual artifacts, set explosives in the building and reduced it to rubble.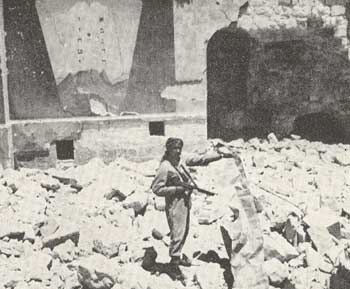 1948 - Jordanian soldier among the ruins
As soon as Jerusalem was unified once more in 1967, architects around the world began designing plans to rebuild the landmark. The Israeli government, afraid of offending the Arabs who had so joyfully plundered it, however, hesitated. Instead of rebuilding a place of worship, they erected a sober 52-foot arch over the ruble, as a memorial.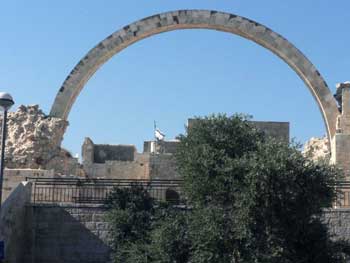 1977-2005
The Jewish people are not big on defeatist memorials, however. It took 62 years, but on March 15, 2010, the Hurva synagogue was rededicated as a place of worship once again.
The building, designed by Israeli Nahum Meltzer, is a faithful replica of the synagogue as it stood 150 years ago, complete with its 82-foot high dome and lovingly replicated murals and ornaments.
Despite everything, life goes on.


Return from Hurva Synagogue to Holy Sites page.

Return to Experience the Holy City Jerusalem.

Return to Jerusalem Home page.