Restaurants in Jerusalem: Sheyan


Asian restaurants in Jerusalem are not unusual. But in a sea of Chinese fast food places and sushi bars, Sheyan – which bills itself simply as an Asian restaurant – stands far above the crowd.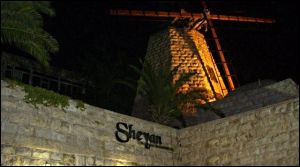 Sheyan is a star among Jerusalem restaurants, and I don't mean this lightly. The food is simply outstanding. The service is friendly and well-informed about the menu. And – it's a rare thing for an Asian restaurant – the desserts are out of this world.
On a recent evening, a friend and I met at Sheyan's to celebrate a special occasion. Choosing from the menu is the toughest thing at this Jerusalem restaurant. We finally settled on soups: the traditional wonton soup and a beef noodle soup. Both were delightful – unequivocally the finest wonton. The beef broth was infused with ginger, which added a piquant note to the rich layers of deeper flavors.
Egg rolls are, of course, de rigueur. The ones at Sheyan are made with a pleasantly thin crust filled with far more than the usual cabbage mix.
We followed this one of the daily specials, chicken with broccoli, pecans, almonds and cashews, and two dishes from the regular menu. The chicken dish featured the natural tastes of its ingredients, rather than smothering them in spices. The unusual combination of nuts was also a nice twist.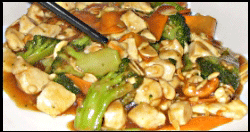 From the regular menu, the beef with nectarines in hot and sour sauce was made with simply the finest cut of meat I've ever had in restaurants in Jerusalem. We also enjoyed a side dish of noodles cooked in coconut milk and topped with fresh coriander and peanuts, which had a pleasant, surprising kick to it.
For dessert, if you expect the typical ice cream and fried banana concoction you'll find at other Chinese restaurants in Jerusalem, you're in for a shock. Sheyan's dessert menu is one of the most imaginative I've ever seen in a Jerusalem restaurant. You'll find such tantalizing concoctions as egg rolls filled with seasonal fruits, forest berries and coconut; panne cotte with lychees and strawberries in sake sauce and lemon mousse with poppy seed tuiles.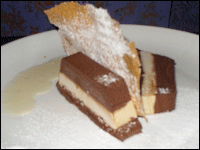 My friend chose the chocolate mousse with peanut butter terrine, a totally decadent dish – layers of thick chocolate mousse in between which nestled the terrine which must have been made with freshly ground peanuts.
I chose a typically Israeli dessert, malabi, custard made with rose water, served on a plum compote. The fairy-light notes of roses were the perfect touch to end an absolutely perfect meal.
I also have to note the great service – efficient, knowledgeable about the menu and friendly without being intrusive, which probably explains why this is such a popular spot to celebrate a birthday. There were five other birthday parties going on while we there, so we were treated to multiple versions of the birthday song and sparklers, and one of the staff even offered to take our pictures for us.
Sheyan is located in the Rehavia windmill, a historic Jerusalem landmark that was once home to the Dutch consul. (The owners of Sheyan also own Keyara, the restaurant in the windmill's courtyard.) Rehavia is a quiet, tree-lined neighborhood in walking distance to the center of town.
Sheyan is not cheap, but that is easily forgivable given the quality of the ingredients and the chef's talent. If I have a short-list for my favorite Jerusalem restaurant, Sheyan is on it.
Expect to spend around 400 shekel for two people.
Sheyan is certified kosher Agudas Yisroel mehadrin.

Hours: Sun-Thu 12:30 to 15:00; 18:00 to 23:00.
Open Saturday nights.
8 Ramban Street
Tel: 561-2007
Important Note: Kashrut certification for every Jerusalem restaurant changes frequently and without warning. I strongly urge you to check for a valid kosher certificate before being seated in any establishment - including any reviewed on this website.




Return from Restaurants in Jerusalem: Sheyan to
The Jerusalem Restaurant Guide

Return from Restaurants in Jerusalem: Sheyan to Home page