Restaurants in Jerusalem:
Keyara


A rarity among restaurants in Jerusalem, Keyara is an gourmet Jerusalem restaurant with one of the most reliable certifications kosher restaurants can get.
This culinary gem has a setting worthy of a fine establishment: it is housed in the Rehavia windmill complex. The windmill dates from the 1870s and was once (suitably so) the home of the Dutch consul. Keyara is located on the lower level of the windmill's courtyard.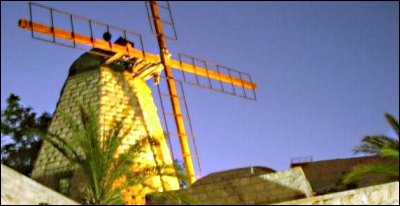 Modern, minimalist decor sets the tone for a quiet, dignified atmosphere.
Keyara's menu is probably one of the most original among restaurants in Jerusalem. It is clearly designed to surprise, with each dish pairing flavors not usually associated with each other.
The first courses here are rumored to be the house's specialty (a friend told me she usually orders several first courses for her meal) and we were not disappointed.
My dinner partner couldn't resist the chicken livers in brown sugar with sweet potatoes - an unusual combination if I ever heard one - while I played it safe with thin-sliced roast beef with balsamic vinaigrette. Both dishes were simply outstanding. The hot chicken livers were tender as butter, served in a sauce that was sweet and rich without being cloying. The cold roast beef, in paper-thin slices on lettuce, was drizzled with a horseradish sauce which was a nice counterpoint to the balsamic vinaigrette. I might seriously consider ordering both dishes next time, as the deep, rich taste of one nicely balanced the refreshing flavors of the other.
Other choices included duck, salmon, and a green salad with pomengranates.
The first course was served with a rosemary foccacia and hot garlic bread, both delightfully fragrant.
An entremet of limoncella ices cleared our palates for the main course.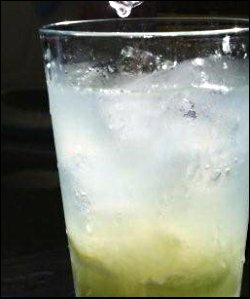 Choices here included duck confit, entrecote, fish or a vegetarian pasta with zuchini and mint. We both chose steak - my partner had a seared entrecote and shitake mushrooms in demi glace sauce with rosemary roasted vegetables. Those familiar with even the best kosher restaurants know that finding a demi-glace sauce is almost unheard of. And while I was sorely tempted, I opted instead for another unsual offering, the entrecote in peppercorn cream sauce. I hadn't had this dish since my childhood, and it was almost as good as my mother's. (Since my mother once worked as a menu consultant for gourmet restaurants, this is a high compliment indeed.) My meal arrived served on a bed of mashed potatoes, drizzled with a sumptuous plum sauce.
Kosher restaurants in Jerusalem that specialize in meat are not usually known for great desserts, but we had been warned not to miss Keyara's. Although perhaps not the strongest part of the culinary repertoire here, the desserts were still more than respectable. As with the rest of the meal, the desert menu offers imaginative combinations: a chocolate ganache on orange tuiles and beet sauce, tehina semifreddo with carrot marzipan and panne cotte with wine jelly, just to name a few.
I had the chocolate ganache, if only to try the beet sauce, and found it as satisfying a combination as the chicken livers and brown sugar had been. My partner went for the mini chocolate souffles with orange marmalade and raspberry confiture fillings. The souffles were a bit too cake-like to qualify as souffles in my book, but rich and satisfying nonetheless. The fruit fillings were generous and well complemented by the coconut ice cream that accompanied the dessert.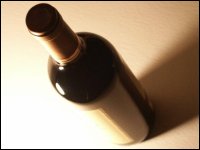 The wine list at Keyara is exceptional, a wide ranging offering of some of Israel's best vineyards. Since we had to drive home, we both skipped the wine in favor of a jug of chilled, minted lemonade, but I'd urge any wine-lover not to pass up this opportunity to sample outstanding boutique Israeli wines that are not readily available elsewhere.
While Keyara is close to the city center, it is located in Rehavia, neighborhood of quiet, tree lined streets that are perfect for a romantic after-dinner stroll, which makes it a great choice for a special occasion.
Keyara is a unique light among kosher restaurants and it deserves its reputation as one of the best restaurants in Jerusalem.
That said, Keyara isn't cheap. Expect to spend to between 400-500 shekels for two people, without wine, and up to another 300 shekels for a fine vintage.
Keyara is certified kosher Agudas Yisroel mehadrin.
Hours: 18:00 to 23:00, Sun-Thu
8 Ramban Street
Tel: 02-566-3271


Important Note: Kashrut certification for every Jerusalem restaurant changes frequently and without warning. I strongly urge you to check for a valid kosher certificate before being seated in any establishment - including any reviewed on this website.




Return from Restaurants in Jerusalem: Keyara to the Jerusalem Restaurant Guide

Return from Restaurants in Jerusalem: Keyara to Jerusalem Home page