A Jerusalem Vacation – Plus Cyprus!

If you're looking to expand your Jerusalem vacation by adding another destination, here is a very popular spot you may want to consider: the island of Cyprus.

Cyprus is featured on many a Mediterranean cruise and is a hot spot for Israeli travelers, too. In fact, this picturesque isle is such a popular destination for weddings that in some Israeli circles "hopping over to Cyprus" has almost become an euphemism for getting married!

To find out more about Cyprus tours and sightseeing in Limassol – or to plan a Cyprus wedding – check out Under the Cyprus Sun.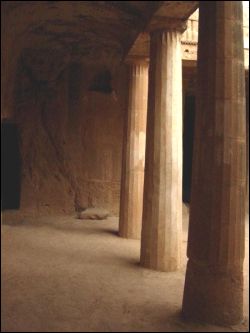 Getting There
The cheapest way to get to Cyprus for a few days is to book a package deal from a travel agent once you are here in Jerusalem. Many of them run regular specials for 3 or 4 night stays in Cyprus that include air fare and half- or full-board accommodations.
Once upon a time – as late as the summer of 2008 – there was a ferry service from the coastal city of Haifa. Alas, it has been suspended. So the only way to get there these days is by air.
Arkia Israel Airlines and Cyprus Air run regular flights to Cyprus from Tel Aviv.
The flight takes just under an hour.





Return to Adding More Destinations to Your Jerusalem Vacation

Return to Home page