Restaurants in Jerusalem: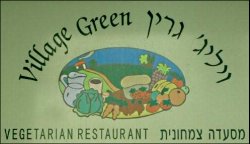 Restaurants in Jerusalem that serve dairy, vegetarian foods abound. But the Village Green is one of the few kosher Jerusalem restaurants that manages to be unabashedly health-food oriented and very popular at the same time.
Location, of course, is important, and the Village Green's couldn't be better. It is on Jaffa Road, just a little way down from Kikar Zion - basically Main Street in Jerusalem.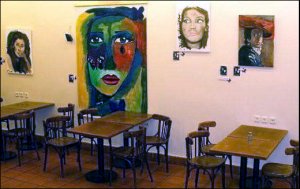 While other dairy restaurants may strive for elegance, the Village Green is an upscale cantina. Take your place in line with your cafeteria tray, choose what you'd like, and when you get to the cashier, she will weigh your plate to figure out how much you owe. You can then find yourself a table on the main floor (nice wooden tables and air conditioning), downstairs - which tends to be more quiet and where you can enjoy a changing exhibit of paintings by local artists - or outside on the sidewalk, which has a decidedly Mediterranean flavor.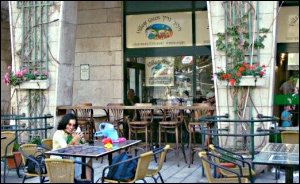 Village Green specializes in wholesome vegetarian food: whole-wheat spinach lasagna, broccoli and sweet potato quiches, butternut soup, vegetable-filled blintzes, for example. There's also an extensive bar of Middle Eastern salads and hot dishes, such as couscous and roasted eggplant. The variety of whole grain breads are freshly baked, smell delicious and are free with each meal.
The pecan pie isn't half-bad and my kids really liked the cheese lasagna.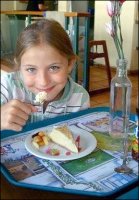 My youngest enjoying the cheese cake
You'll find something here to please almost everyone, so it is a nice place to come with children and it is certainly convenient if you're touring in the city center or on the way to the Old City. A main course, salad plate, drink and slice of pie will add up to about 80 shekel. Not cheap but not outrageous either.
Hours: 9:00 to 22:00, Sun-Thur; 9:00 to 15:00 Fri.
33 Jaffe Street
625-3065

Kosher Jerusalem Rabbinate Mehadrin - Belz Machzikei Hadas Mehadrin
Important Note: Kashrut certification changes very frequently and without warning. I strongly urge you to check for a valid kosher certificate before being seated in any establishment - including any reviewed on this website.


Return from Restaurants in Jerusalem: Village Green to Jerusalem Restaurant Guide

Return to Home page