Oskar Schindler's Grave


Oskar Schindler, of the famed Schindler's List, is buried on Mt. Zion, just outside Zion Gate. It's one of the quirky, unexpected facts that make Jerusalem so interesting to explore.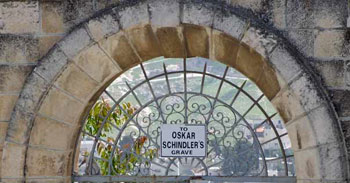 Oskar Schindler is best known as the protagonist in Steven Spielberg's film, Schindler's List. An ethnic German, Schindler joined the Abwher (German military intelligence) and later the Nazi Party.

With Germany's invasion of Czechoslovakia in 1939, Schindler was able take over an enamelware factory and, because his business was categorized as essential to the German war effort, he was able to obtain 1000 Jewish forced laborers.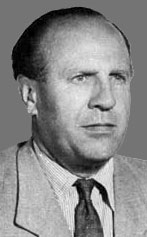 Although initially, it is clear he was an opportunistic businessman motivated by money (he made a fortune as a war profiteer), Schindler became appalled at the Nazi murder of Jews and used his position and his personal wealth to protect as many of his Jewish workers as possible, by declaring them "essential workers", hiding them in his factories and outright bribery of Nazi officials. He also smuggled children out of the ghetto and helped hide them with local families, often risking his life to do so. The Jews who worked for Schindler became known as "Schindler-Jews". Schindler himself referred to them as his children.
Schindler is credited with saving over 1200 lives. There are over 7,000 descendants of Schindler-Jews today who owe their lives to his heroic actions.
Once a very wealthy man, Oskar Schindler died penniless. At his request, he was buried in Jerusalem, because, he said, "that is where my children are."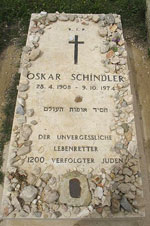 He is buried on Mt. Zion, not far from the Diaspora Yeshiva. Although he lies in a Roman Catholic cemetery, his grave is often covered with pebbles – a Jewish tradition – left by the many Jews who owe him their lives and who still visit his resting place in thanks to this day.
In 1999, a suitcase belonging to Schindler was discovered in the attic of the home in Germany where he died. In it were hundreds of lists of names – lists of "essential persons" he submitted to the Nazis – which he used to save the lives of his workers, and the text of his farewell speech to his liberated workers in 1945. The contents of the suitcase are now at the Yad Vashem Museum.



Return from Oskar Schindler's Grave to Jerusalem Holy Sites.

Return to Jerusalem Home page.