Matza Balls
a comfort staple of Israeli cuisine


Matza balls (also spelled matzah or matzo balls) are the quintessential Jewish comfort food. Light and fluffy or small and dense, depending on your preference, these are usually served in chicken soup. They make their appearance at many Shabbat and holiday dinners all over Israel and so rightfully earn their place as a standard of Israeli cuisine.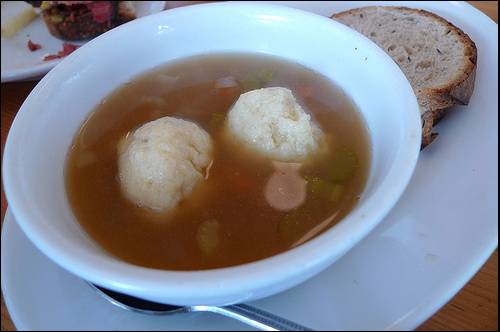 Photo by SanFranAnnie, courtesy of flickr under CC BY-SA 2.0 license.




Although in some families, grandma's recipe may be a closely guarded secret handed down through generations, the basic recipe is pretty straightforward. The secrets tend to be in the mechanics of the process, as you'll see.

Ingredients:
4 eggs
4 Tbsps of oil
4 Tbsps of ice water
1 C matza meal
1 tsp salt
¼ to ½ tsp of pepper, depending on your preference
8 C of water
1 tsp of salt


Mix the eggs, oil and water in a large bowl.

Stir in the matza meal, salt and pepper, mix well.

Refrigerate for at least an hour.

Bring water to a boil.

Add salt.

Lower flame to simmer.

Wet your hands in very cold water and form batter into balls.

Drop balls in simmering water.

Cover pot and cook for 30 minutes.

Turn off flame and let pot sit, covered for 10 minutes.
Serve warm in chicken soup. Can be prepared ahead of time and freeze well.
The secrets:
Ice water means ice-cold. Try to skimp by with tepid water and you won't get as good results.
Keep your hands wet the entire time you are rolling the balls.
If you want fluffy matza balls, cook them in as wide a pot as possible – the wider the pot, the fluffier they'll be.
Don't uncover the pot during cooking and cooling time.

Return from Matza Balls to Israeli Food


Return to Jerusalem Home page


Traveler's Prayer
Our Gift to You!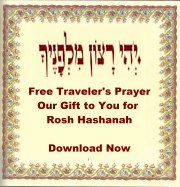 ---
Take us with you!
Only have a day or two in Jerusalem? Download our guidebook and make the most of your time here.
Introduction to Jerusalem: A Guide to the Holy City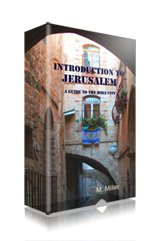 "As we had limited time in Jerusalem, I purchased your mini guide book and found it very informative. Thanks!" - Brian, S. Africa


---

Top 5 Jerusalem Hotels
Click here for the top 5 discount hotels in Jerusalem.
---
Learn to Speak Hebrew:

---
Make Jerusalem part of your life:

Subscribe to our FREE newsletter.

---
Jerusalem Video
The 6-min virtual tour