Matisyahu
Jerusalem and Rap

If Matisyahu, Jerusalem, and rap, and Matisyahu lyrics from Psalms and Matthew Wilder, sound like a weird combination, that's because Matisyahu is a unique character – a once-upon Chassidic Jew, who used to sport a long beard, ear locks and all, and sounds like a combo of Ska/punk and reggae.
If you've only heard Matisyahu – without seeing him – you might be forgiven for thinking you're listening to a Jamaican rapper. But upon closer listening, and paying attention to his lyrics, the Jewish philosophy that inspires his songwriting becomes obvious.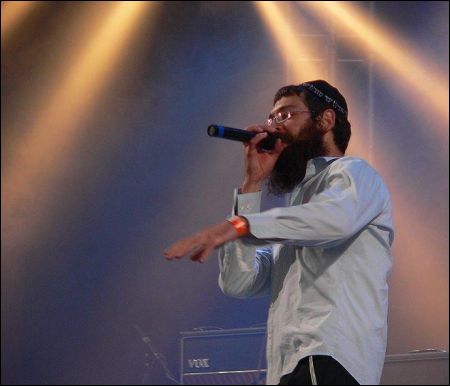 The Pennsylvania native spent his youth as a Phish groupie, following the band's concert tours. Somehow, he ended up in Israel for a summer that changed his life. Matisyahu decided to return to his Jewish roots and eventually become a Lubavitcher Chasid (although he seems to have left the group and his religious beliefs are more private these days.)
Matisyahu lyrics aren't for lightweight entertainment. He strives to inspire people with the teachings that inspire him, to touch people's souls through his music, and make them think. And despite the deep messages, his songs have been surprise hits, with King Without a Crown hitting number 4 on the US Modern Rock charts and 28 on the US Hot 100. (Get the King Without a Crown mp3 download here.
To be honest, I like almost any kind of music – and I love reggae – but for some reason I can't stand rap. All I'd been hearing was he was a cool rapper, so I didn't expect to like Matisyahu's music much. When I first heard the Matisyahu Jerusalem song, I though, wait a minute ... the guy's into reggae all the way!
No wonder everyone was talking about him – he's played with Phish and as a supporting act for Sting in Israel and even earned himself a Grammy nomination. And the fact that he does all this as an openly practicing Chassidic Jew, who won't perform on the Sabbath or Jewish holidays, is pretty impressive.
Of all his albums, I find myself most enjoying the first of his songs I heard, the Matisyahu Jerusalem song - Jerusalem (Out of the Darkness Comes Light). I mean, the title alone has got to make you stop and think ...
The song definitely grew on me. To get the Matisyahu Jerusalem mp3 download, click here.
And here's a live performance of the song by Matisyahu at a New York City benefit for Israeli soldiers. To start the video, please click on the arrow on the toolbar below the video, not the one on the screen.


The lyrics of the song are based on Psalm 137:5-6:
If I forget you, O Jerusalem, let my right hand wither, let my tongue stick to my palate if I cease to think of you, if I do not keep Jerusalem in memory even at my happiest hour.
These verses are some of the most beautiful of all Jerusalem lyrics. In fact, they are the words to several of my favorite Jerusalem songs in Hebrew (the artist Yehuda! does a stunning version that includes bagpipes) – but none of them sound quite like Matisyahu's!
The bridge of the song is from Matthew Wilder's 1983 hit, Break My Stride, but the intervening verses touch on the Jewish people's centuries of wandering, the Holocaust, assimilation and people's urge to run away from who they really are. In other words, they are typical Matisyahu lyrics - tough, deep and unafraid to say the truth.
It's a powerful combination.


Return from Matisyahu Jerusalem and Rap to Jerusalem Song

Return to Home page