Jerusalem Tourism Outside the City Limits:
Rachel's Tomb

Jerusalem tourism sometimes involves going past the Jerusalem city limits. For example, it's only an hour and a half walk from the Old City of Jerusalem, but Rachel's Tomb, in Bethlehem, is a world away. Even in a country replete with sacred places, few other holy sites in Israel elicit such strong emotions as kever Rahel, as it is known in Hebrew.


One of the oldest places of prayer on Earth
Rachel's tomb is considered Judaism's third holiest site, but is one of the oldest sacred places of prayer on earth.
Rachel, Jacob's wife, died in childbirth on the 11th of the Hebrew month of Cheshvan in the year 2198 (1560 BCE). She was 36 years old. Jacob buried her along the Bethlehem road to Efrata and "over her grave Jacob set up a pillar, it is the pillar at Rachel's grave to this day." (Genesis 35:16-21)
Tradition says Jacob buried her along the road – rather than in the family burial cave in nearby Hebron – so that future generations of her descendants would stop and pray at her grave and be comforted on their way to exile.
Rachel is the quintessential mother in the Jewish psyche and it is here that Jews come to pour out their most gut-wrenching prayers. Pilgrims came here long before King Solomon built the Temple in Jerusalem. They continue to come to this day. A Jerusalem tourism itinerary wouldn't really be complete without a stop here.
Along the road to Bethlehem
The image most Israelis' still have of Rachel's Tomb is this one: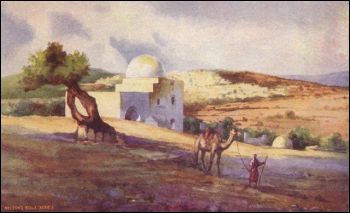 The stone edifice over the tomb was actually erected by Sir Moses Montefiore in 1841. This photograph and others like it were the basis for many paintings that hang in Israeli homes and for the single most popular embroidery kit in Israel.
Unfortunately, this idyllic scene now exists only in our memories. It isn't what you'll see when you go, though.
Over the years, Bethlehem grew to line both sides of the road around the grave, so the pastoral feel is gone. And due to repeated terrorist attacks and sniper fire from Palestinian terrorists, in the 1990s the government was forced to turn the tomb into a fortress, encircling the original building in a large fortified structure and dedicated access road that guarantee the safety of religious pilgrims: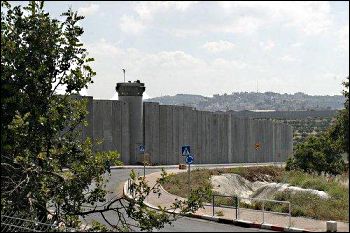 Inside Rachel's Tomb
Inside the complex you will find the grave itself. There are separate access rooms for men and women. Emotions run the gamut here from moving tears to the joy and pride of bat mitzvah girls, for whom Rachel's Tomb has become the place to go.
My oldest daughter and I were part of such a mother-daughter bat mitzvah class that celebrated at Rachel's Tomb. When the door to the hall jammed shut, locking us inside, our group enjoyed an extra hour and a half of special time with Mother Rachel while workers tried to open the door and let us out. Don't worry – I'm sure the door is fixed by now and it won't happen to you – but having that quiet time with a small group in such a sacred place was an experience we will always cherish.
For all the joy of bat mitzvah girls and their mothers, this is still a serious place of contemplation. If you need a prompt to get your emotions flowing here, just glance at the white, embroidered cloth that covers Rachel's grave. It is made from the wedding gown of Nava Applebaum, a 20 year old bride who was murdered in March 2003 by terrorists on the night before her wedding.


The Red Thread
At most Jerusalem tourism sites, you will find people handing out red string. What is this all about? There is a special segulah – charm – to wear a bracelet made of red thread that has been wrapped around Rachel's Tomb seven times. The source for this is unclear (there is no reference to it in Kabbalah) but it is a very ancient tradition and stories of miraculous events related to the red string abound.
In fact, about 15 years, during a contentious Israeli election period, political parties had to be banned from handing out red strings (Were they implying that the party or politician had the support of Mother Rachel herself?)
Thus, not only at Rachel's tomb, but at many Jerusalem tourism sites, you will probably see people selling red thread bracelets.
Actually, the bracelets make a nice souvenir to bring home with you – you never know what power the red thread might hold …


Getting There
The best way to get here is to take one of the eight daily buses (Route 163) from the Central Bus Station. Buses leave Jerusalem at 5:10, 9:10, 10:10, 11:10, 13:10, 15:10, 17:10 and 19:10.


*Photographs of women praying at Rachel's Tomb and the wedding dress tomb covering by Rahel Sharon, under a Creative Commons license. Photograph of the outside fortifications by The Mechanical Turk under a Creative Commons license.

<


Return from Jerusalem Tourism Outside the City Limits to Holy Sites

Return from Jerusalem Tourism Outside the City Limits to Home page