Jerusalem Restaurant:
Agas VeTapuach / Pera e Mela


The oldest Italian Jerusalem restaurant, this place goes by several names – Pera e Mela (Italian), Agas veTapuach (Hebrew) and Pear and Apple (English – you probably got that one). That doesn't mean it has a split personality, nor does it mean that the authenticity of its Italian food has been diluted in any way.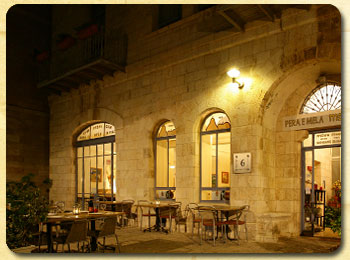 The owner of the restaurant, Gionatan Ottolenghi is known for singing operatic arias and Italian chazzanut while serving his homemade pasta. He and his wife Miriam moved here from Milan and Rome. In the late 1970s, they specialized in blintzes and created one of the most popular restaurants in Jerusalem. Success led to a full-fledged Italian menu in the 1980s, and it is still one of the most popular Jerusalem restaurants. The recipes are original Italian traditions of the 19th century, learned from Gionatan's grandmother.

As expected, Pera e Mela serves pasta – all of it made by hand on site every day. However it also offers, among other delectable choices, eggplant parmesan, a variety of fish dishes, and the blintzes are still on the menu, with savory and sweet offerings. (At least one person at the table has to order the chocolate mousse filled blintzes, topped with walnuts, whipped cream and chocolate sauce, or your visit is not complete!)

Some of our personal favorite items aren't listed on the menu – they come with the meal. The warm bread served with two types of butter, one with herbs and one made with sundried tomatoes, is one. The other is the house salad dressing. Be sure to ask for it if you order a salad; it's a specialty of the restaurant.

Pera e Mela also offers gluten-free pasta. You have to call a day ahead to order it and they'll make it for you.

Now located at Safra Square, in an historical renovated building, the Agas veTapuach is only a 20 minute walk from the Old City, and five minutes from Jaffa Gate. On mild evenings, you can dine al fresco at the tables set up on the walkway outside the restaurant, overlooking a small park. Prices are reasonable and the business lunch menu is a good deal.

Agas veTapuach is certified kosher by the OU. Dairy.

6 Safra Square
Tel: 02-6230280
fax: 02-6249715

Opening hours
Su. - Th. 11:00 - 23:00 (Business lunch 11:00-17:00)
Sa. From after Shabbat - 24:00



Return from Jerusalem Restaurant: Agas VeTapuach to
Jerusalem Restaurant Guide.

Return to Jerusalem Home page.


Traveler's Prayer
Our Gift to You!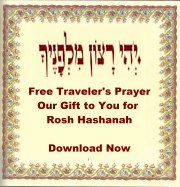 ---
Take us with you!
Only have a day or two in Jerusalem? Download our guidebook and make the most of your time here.
Introduction to Jerusalem: A Guide to the Holy City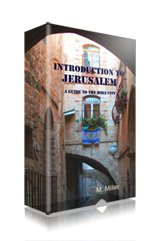 "As we had limited time in Jerusalem, I purchased your mini guide book and found it very informative. Thanks!" - Brian, S. Africa


---

Top 5 Jerusalem Hotels
Click here for the top 5 discount hotels in Jerusalem.
---
Learn to Speak Hebrew:

---
Make Jerusalem part of your life:

Subscribe to our FREE newsletter.

---
Jerusalem Video
The 6-min virtual tour