Jerusalem Museums:
The Wohl Archaeological Museum


The Wohl Archaeological Museum is one of the most fascinating Jerusalem museums. It gives you a unique sense of what may remains hidden under your feet as you walk through the Old City.
Located underground, it preserves the remains of six houses from the Herodian period that were excavated in 1967.
In Temple times, this part of the city was home to wealthy priestly families. Homes were built on the hill overlooking the Temple Mount, with the roof of each home at the basement level of the house above it, so that every house enjoyed a spectacular view of the Temple.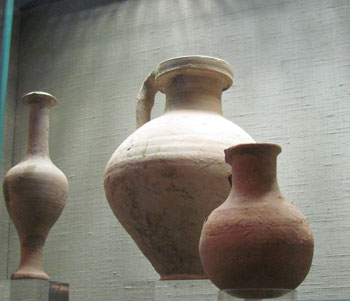 The six homes whose remains are on display were destroyed by the Romans in 70 CE. Carefully excavated, the site includes water cisterns, elaborate bathrooms with beautiful floors, reception halls with colorful stucco paintings and mosaic and many artifacts that bring to life the daily existence of 2000 years ago.
The homes here are about three to seven meters below the present-day street level. The first home - the Western House - holds several private Jewish ritual baths (mikvaot), and a staircase that goes up ... to nothing. It's impressive to remember as you walk through the excavation that what we see are only the basement floors of multi-storied mansions.
The Middle Complex consists of two homes, while the Palatial Mansion is a just that - a house that would still be considered quite something today. There's a model of the mansion as it might have looked before its destruction.
You'll also see ashes, fire damage to the wall paintings and burnt beams that bring the horrors of the Roman destruction vividly to life.
Once you leave, you'll have a new appreciation not only of how people lived 2000 years ago, but also of the many treasures that may lie several meters under your feet as you continue to walk through the Jewish Quarter.
Hours: Sun-Thurs 9-5:00, Fri. and Jewish holiday eves 9:00-1:00. Tel: 02-6265900 ext. 102
Admission: 15 shekels adults, 13 shekels students/seniors, 7 shekels children under age 12.
1 HaKaraim St, Old City.




Return from Jerusalem Museums: Wohl Archaeological Museum to
Jerusalem Museum Guide

Return to Jerusalem Home page