Israeli Salad
the classic Israeli food


Israeli salad is a classic Israeli food – you'll find it at almost every single meal.
Making the most of the country's delicious fresh produce, this simple dish is typically served with white cheeses at breakfast, with chicken schnitzel or falafel at lunch, and with hummus, olives and pita at dinner.
It is true you'll find variations of this classic tomato and cucumber salad from India to Morroco, but here it has it become an essential daily staple.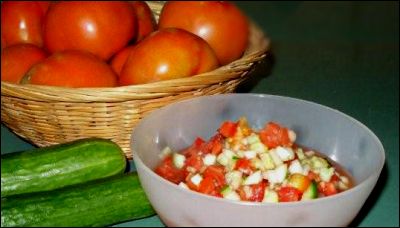 Ingredients:
4 fresh, ripe tomatoes
4 cucumbers
1 lemon
¼ C olive oil
salt and pepper


Cut the tomatoes into small, even cubes.

Peel the cucumbers and dice into small, even cubes.

Mix tomatoes and cucumbers in a serving bowl.

Juice the lemon and a 2-3 Tbsps of juice to the olive oil, according to taste.

Pour dressing over chopped vegetables and mix well.

Add salt and pepper to taste.
Voila – it couldn't be simpler.
The secret – Israeli cooks pride themselves on chopping the vegetables into minute, incredibly even cubes.
Of course, you can vary it by adding any number of ingredients. Occasionally, you'll find someone who mixes in a chopped onion, peppers or some cilantro. But however delicious that might also be, it won't be the authentic thing any more. (In fact, the addition of cilantro makes it a typically Indian dish.)
So for the real thing, be a purist!








Return from Israeli Salad to Israeli Food


Return to Home page