The Gyros Sandwich
(Chicken Shawarma Recipe)


The Gyros sandwich – often just referred to as shawarma – is a classic Israeli food of the streets.


The dish is popular around the Mediterranean basin and is often thought of as a Greek specialty. But Israel has its own twist on it – when it comes to "fast" food, most Israelis would rather grab a quick turkey or chicken shawarma than a burger any day.


The Gyros Sandwich
This Mediterranean specialty is most often made from lamb, roasted on a spit. In some Arab countries, goat is popular instead. The meat is sliced off the spit is small pieces and served in pita with vegetables and a sauce. In Greece, the sauce is usually tzatziki, a tart yogurt and cucumber blend.
In Israel, turkey and chicken shawarma are more common than lamb. Occasionally, some restaurants will baste the chicken shawarma with lamb fat as it roasts. You also won't find tzatziki, since most Israelis keep kosher, which prohibits eating meat with dairy. Here, the sauces of choice are hummus, tehina or a blend of both.
Instead of serving the shawarma in a pita, most places in Jerusalem use a laffa – a large, thin pita – to wrap the meat and vegetables, then wrap the whole thing in paper so you can eat on the go. Eating a gyros sandwich can be a messy affair, though, so you may prefer to pick an establishment that offers seating while you eat.
Everyone has their favorite shawarma place. In keeping with the gyros sandwich's street-food reputation, these tend not to be very fancy establishments. Possibly one of the best chicken shawarmas to be had anywhere is made in a joint behind a gas station on the road that lead out of Jerusalem to Tel Aviv – not exactly the Ritz!
You don't have to leave the center of town, though – you can find a gyros sandwich at many little hole-in-the-wall places all over Jerusalem. Look for the counters that sell falafel – those that serve chicken shawarma will have a large rotisserie spit visible in the back.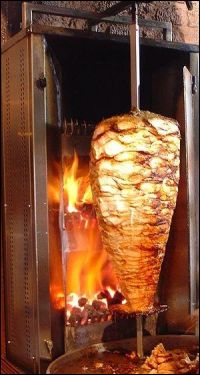 Chicken Shawarma Recipe
Print This Page
Unless you happen have an upright rotisserie spit in your kitchen, you can't make a truly authentic gyros at home. But you can come pretty close. Here's our chicken shawarma recipe.
Ingredients:
1 kilo (2.5 pounds) of chicken or turkey breasts, pounded and sliced thin
1 T kosher (coarse) salt
1.5 tsp of paprika
¼ tsp of pepper
¼ oregano
¼ zatar (optional)
White wine vinegar

2-3 large tomatoes
1 onion
Hummus or tehina
6-8 large thin pitas or laffas


Mix the salt, paprika, pepper and spices.

Place one layer of chicken or turkey in a pan.

Sprinkle liberally with vinegar.

Sprinkle with spice mixture.

Place another layer of chicken or turkey in the pan, and repeat.


Cover pan and refrigerate for at least two hours.


Thinly slice onion and tomatoes.


Remove pan from refrigerator.

Slice the marinated meat into short strips about 2 cm (about 1 inch) wide.

Stir fry the strips in a large, non-stick pan (either a non-stick frying pan or a wok will work well), until well cooked and slightly crispy.

Set aside.


To assemble a gyros sandwich:
Spread hummus and/or tehina on a pita.

Layer tomato slices and onion slices if desired.

Place shawarma pieces on top.

Roll the pita around the contents, folding in one end for the bottom and leaving the other open.
For the latest Israeli twist, serve with French fries. You could also add Israeli salad, instead of the sliced tomato, or shredded cabbage. If you have pitas instead of laffas, open the pita and fill it with the shawarma, hummus, tehina and vegetables.
Bring out the napkins and enjoy!

If you think digging into a chicken shawarma is too decadent to be a deeply spiritual experience – think again! Tzvi Glukin recounts his first encounter with the shawarma in this highly humorous article – Shawarma: A Love Story.

Photo credits: shawarma close up by cyclone bill; shawarma rotisserie spit by p. vasiliadis; both courtesy of Wikimedia, under a CC by 2.0 license.



Return from Gyros Sandwich to Israeli Food

Return to Jerusalem Home page