Hannukah Doughnut Recipe


This doughnut recipe is a slightly healthier take on the traditional Israeli Hannukah treat.


Hannukah commemorates the miracle that occurred when the Maccabees rededicated the Temple in Jerusalem, following their victory over the Greeks. They found only enough consecrated oil to light the Temple's menorah for one day. But a miracle occurred and that little bit of oil burned for eight days.
Not surprisingly, therefore, Israeli foods for Hannukah are fried in oil – fried potato pancakes, for example, and doughnuts.
I'm not one to buck tradition, but I thought there must be a healthier alternative to deep-fried doughnuts that would still be tasty enough to nourish the spirit of the custom. After a few trial runs, we came up with this baked doughnut recipe that tastes just like the ones you'll find in neighborhood stores all over Jerusalem – except better and fresher.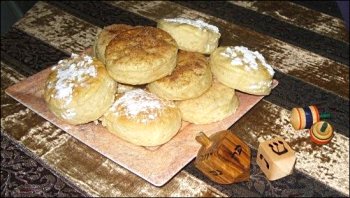 Baked Doughnut Recipe
1 package of yeast (2 ¼ tsp of American yeast, 50 grs of Israeli or European yeast)

1 C warm soy milk

½ C warm soy milk

2 Tbsp margarine

½ C sugar

2 eggs

4-5 C flour

¼ tsp nutmeg

Pinch of salt


Dissolve yeast in ½ C warm soy milk, and 1 T of sugar. (Make sure the milk isn't too hot, or it will kill the yeast.) Let sit until foamy.


Stir margarine and remaining sugar into 1 C of warm soy milk until dissolved.


Add to yeast mixture.


Add 2 eggs, flour, nutmeg, salt and mix at medium speed until the mixture forms a smooth dough that pulls away from the side of the bowl.


Turn dough onto floured surface and knead until smooth and not sticky. Roll into ball.


Lightly oil a large bowl, turn dough into bowl and cover. Let rise until doubled, about 1 ½ hours.


Roll out dough on floured surface to an even ½ inch thickness.


Use a doughnut cutter or a 3 inch cookie cutter to cut circles.


Line a baking sheet with parchment paper and arrange circles on it.


Cover with a towel and let rise about 45 minutes.


When risen, spray lightly with a bit of oil (totally optional – this is just to stay in the Hannukah spirit!) and bake at 375 F (190 C) for 8 to 10 minutes, until the doughnuts are just starting to turn golden on the bottom.
Moroccan cinnamon-topped doughnuts:
Let doughnuts cool on a rack until you can handle them. Mix 1 C sugar and 1 Tbsp cinnamon in a bowl. In another bowl, melt 50 grams of margarine. Working quickly, dip the surface of each doughnut in the melted margarine and then in the cinnamon sugar. Let cool.
Jelly doughnuts
Let doughnuts cool. Using a pastry bag, fill each doughnut from the side with 1-2 Tbsp of jam. Mix 1 C powdered sugar with a little water and lemon juice to make a glaze. Brush glaze on top of doughnuts. Alternative, sprinkle them with a little powdered sugar.
Doughnuts with a hole
To make ring-shaped doughnuts, proceed to step 11. After the doughnuts have risen a second time, use a small cookie cutter to cut the center hole. If you do it earlier, the holes will close as the dough rises.

Enjoy your doughnuts fresh from the oven, basking in the warmth of the Hannukah lights ...


Note: This is a non-dairy version and uses soy milk. For a dairy version, feel free to substitute milk for the soy milk and butter for the margarine.




Return from Hannukah Doughnut Recipe to Israeli Food page

Return to Home page