The Chagall Windows
at Hadassah Hospital


The Chagall windows at Hadassah Hospital are considered by many to be Marc Chagall's greatest accomplishment in stained glass.


We can't tempt you into visiting them with a photograph on this page, because the windows are copyrighted and no photography is allowed, so you'll just have to trust us that they are gorgeous!
The twelve stained-glass windows, each depicting a tribe of Israel and each with its own predominant color scheme, transform the space of the synagogue in Hadassah Hospital – Ein Karem into a dazzling play of light and colors in a way that is profoundly moving for a place of worship.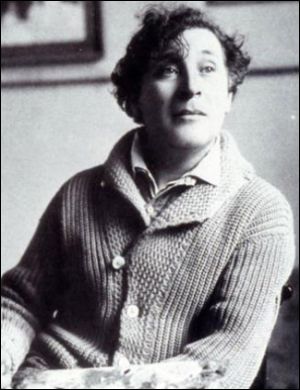 The artist in 1921.



Chagall and his assistant Charles Marq worked on the windows for over two years and developed a new technique to allow Chagall to use up to three colors on a single pane of glass.
The stunning results – 12 windows, each about 11 feet tall and 8 feet wide – were completed in 1961. They were on display in Paris, then New York, where record breaking crowds lined up around the block of the Museum of Modern Art to see them. The windows were installed in their permanent home in February 1962.
Chagall said that all the time he worked on these windows, "I felt my mother and father looking over my shoulder; and behind them were Jews, millions of other vanished Jews - of yesterday and a thousand years ago." At the dedication ceremony, he described the windows as his "modest gift to the Jewish people, who have always dreamt of biblical love, of friendship and peace among all people; to that people who lived here, thousands of years ago, among other Semitic people. My hope is that I hereby extend my hand to seekers of culture, to poets and to artists among the neighboring people."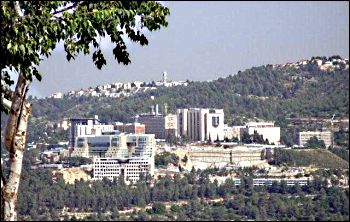 Hadassah Ein Karem Medical Center


The synagogue of Hadassah Hospital – Ein Karem is one of only three buildings to have a complete set of windows designed by the artist. (The other two are in Tudley, UK, and in Limousin, France.)
If you're staying in the center of town, a visit to the Chagall windows involves a little side-trip to the outskirts of town, but is well worth the time. The road to Hadassah Hospital winds along the mountain overlooking the village of Ein Karem, the birthplace of John the Baptist, and is very picturesque.
Admission is free. Guided tours of the synagogue in English and other languages are available as follows: Sun -Thurs 8:00 a.m.-1:15 p.m.; 2:00 p.m.- 3:45 p.m.
Since photographing the Chagall windows is not allowed, there is a gift shop there that sells reproductions, postcards, and other items.
<
Public buses 12, 19 and 27 will you get you there, but it is fastest to take a cab. If you choose to take a taxi, however, be sure to specify Hadassah Hospital Ein Karem, or you may end up at Hadassah Hospital Mount Scopus. (Also a great place to visit, but completely on the other side of town!)



Return from Chagall Windows to Modern Jerusalem

Return to Home page