Modest Clothing
for Jerusalem Travel
Modest clothing is important to remember when packing for Jerusalem travel. What's modest dress? Read on ...
It's true - culture impacts what you need to bring almost as much as the weather does.
Jerusalem is place to let your soul shine – not flaunt your bod. Clothing matters here.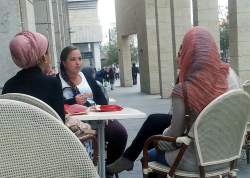 These Jewish and Arab women sharing a coffee are identifiable by their dress.

Shorts and sleeveless Tees might not be out of place in the commercial center of town (and you'll see plenty of them) but Jerusalem's population is largely religious and modest dress is important – in fact, required – at many major tourist sights and in many neighborhoods. So when you go out sightseeing, make sure to dress appropriately.
What's appropriate at a site that requires "modest clothing?"
Fortunately, the rules of modest dress for tourists are pretty clearly defined:
For men: Long pants or at least long shorts, and no sleeveless tops.
For women: Tops that cover the collar bone on down with sleeves to the elbow, and skirts long enough to cover at a minimum the knees. (No pants!)
We recommend women bring at least one long pull-on skirt that can be stashed in a backpack and whipped out when necessary.
Here's why.
Modest Clothing and Jerusalem Tourism

At most Christian, Muslim and Jewish holy sites and in the Armenian Quarter, where modesty rules are prominently displayed at the entrance to St. James Cathedral, you will simply not be allowed in if you are not dressed appropriately.
At the Western Wall, the atmosphere is a bit more relaxed.  Still, many visitors take care to wrap a scarf around bare shoulders as they approach the Wall.  Occasionally, you might see women  hand out wrap-around skirts to female visitors in pants, but this is becoming increasingly rare.

If someone approaches you with a wrap, asking you to cover up, or refuses to let you into a holy site because of your dress (or lack thereof?) don't take it personally. H.R.H. Princess Margaret herself was refused entrance to one of the churches on the Mt. of Olives for showing up in a sleeveless dress.
However, stories of immodestly dressed women being stoned in Ultra-Orthodox Jewish neighborhoods are simply not true. But if you are going to head into religious Jewish or Arab neighborhoods, you will be showing respect to the residents by dressing appropriately and will thus earn their appreciation and respect in return.
---
Don't Miss What's New in Jerusalem!

Stay up-to-date with all that's new in Jerusalem and on this site. Subscribe to the RSS feed at the top of the navigation bar over on the left and you won't miss a thing.
And sign up for our free monthly newsletter to stay abreast of what's going on, as well as new discoveries, seasonal events, cool Jerusalem tours and exciting activities.

Subscribe to Our Newsletter
Jerusalem

>
Travel Info
> Modest Clothing