Cheap Hotels in Jerusalem
Two good choices among Jerusalem hotels
Traveling on a budget? There are some very nice cheap hotels in Jerusalem – even in the best locations. So unlike in many other major cities, when you choose from Jerusalem hotels, being on a budget doesn't mean you have to settle for a lousy room in an unsafe area.

These two hotels provide good accommodations in fantastic locations for decent prices. One is smack in the center of town and the other is on the highest point of the Mount of Olives, overlooking the city.
Get the best rates and reviews for more cheap hotels in Jerusalem.
(Looking for really cheap hotels in Jerusalem? Why don't you consider a pilgrims' guesthouse or a youth hostel instead? .)

Click here for more hostels and specialty accommodation in Jerusalem.
Montefiore Hotel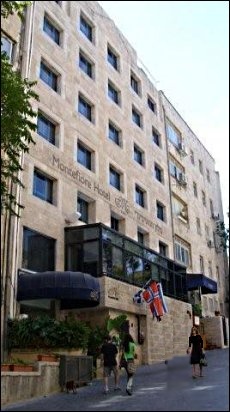 This small hotel is a perfect example of how some cheap hotels in Jerusalem are still very conveniently located. This one has probably the best location for the price downtown. It is five minutes from Ben Yehuda Street - the main shopping and restaurant mall in Jerusalem - and only a short walk away from many attractions.
The great thing is it is located on a small side street, so that despite its central location, the Montefiore it is also a quiet place.
The rooms are small but clean and comfortable. The hotel serves a good Israel breakfast. There is also an Italian restaurant in the hotel and a growing number of cute coffee shops around the corner.
The only drawback here is that the short street on which this hotel is located was recently converted to a pedestrian mall. That means cabs can't stop right in front of the hotel entrance and you'll have to roll your luggage a few meters down the street. Still - that's just a minor inconvenience for a great little place.
Mount of Olives Hotel
This simple two-star family-run hotel on the Mt. of Olives is a great choice for Christian pilgrims.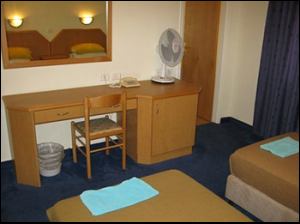 Out of the bustle of the downtown area, this quiet place is only a five minute walk from the Garden of Gethsemane and is next door to the Chapel of the Ascension. There are many important Christian sites nearby.
The rooms are basic but clean and there's a spectacular view overlooking the Old City.
You can catch a bus to the Old City during the day. It stops running pretty early (around 5 p.m.) so in the evening, you'll have to take cabs.
Quick Jerusalem Sightseeing Links




Holy
Sites




Modern
Jerusalem




Museums



Find More Jerusalem Hotels

Jerusalem

>
Jerusalem Hotels
> Cheap Jerusalem Hotels
---
Don't Miss What's New in Jerusalem!

Stay up-to-date with all that's new in Jerusalem and on this site. Subscribe to the RSS feed at the top of the navigation bar over on the left and you won't miss a thing.
And sign up for our free monthly newsletter to stay abreast of what's going on, as well as new discoveries, seasonal events, cool Jerusalem tours and exciting activities.

Subscribe to Our Newsletter