Jerusalem Pilgrimage Hostels
and Guesthouses
Are you on a spiritual journey - a Jerusalem pilgrimage?
If so, you are following in the footsteps of thousands of spiritual seekers who made their way to the holy city throughout the millennia.
Some of downtown Jerusalem's most impressive historical landmarks started out as pilgrim hostels. Modern day versions of the pilgrim guesthouse can provide a unique spiritual dimension to your stay that no luxury hotel could match.
The following places provide clean, safe and comfortable accommodations in a spiritual setting appropriate for a true Jerusalem pilgrimage.
Just keep in mind the rooms are usually designed for people who will be spending most of the day out and about. (The monastic life is not one of luxury!) On the other hand, this type of Jerusalem hostel is also one of the cheapest ways to go. On average, expect to pay between $50 and $95 a night, including breakfast. Some places may be more but some will cost you less than $10.
Some of these hostel do not accept online reservations. To make a phone reservation from outside Israel, remember to dial 972-2 (Israel's country code plus the Jerusalem area code) before the phone or fax numbers listed below.
Jewish hostels / Christian hostels

Jewish Hostels
There are only two real Jewish hostels in Jerusalem - one for men and one for women.  (This may be because Jewish travelers could always find someone related - no matter how distantly - with whom to stay!)  However, these two hostels couldn't have better locations.

Heritage House
Located in the Old City, just minutes from the Western Wall, the Heritage House hostels provide accommodations for Jewish sojourners. Not only is this the place to stay for a Jewish Jerusalem pilgrimage, you can't stay in the Old City at this price anywhere else: 25 shekels (about $6) a night, 50 shekels (about $12) for Friday nights.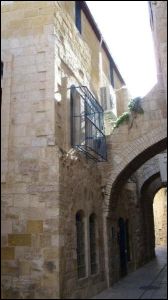 The hostels provide comfortable bunk beds, clean linens, an iron and ironing board. There are coffee, tea and snacks in the kitchen. The bathrooms are clean. There are overhead fans (no A/C, but it isn't necessary at night), and a library. You'll also find lots of info there on things to do throughout Israel.
If you ask, the hostel will arrange for you to have a Shabbat meal with a local family - providing a fascinating immersion in traditional Jewish culture. It also provides an afternoon meal on Saturdays with a speaker and lively singing. Guests can attend regular lecture series on Jewish tradition at no cost.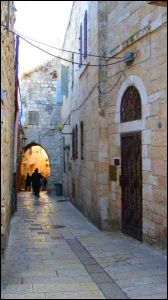 Take note of the hostel hours, though. Check in is only from 8 am to 9 am, and 5 pm to midnight on Sundays through Thursdays; Fridays 8 to 9 am and 3 to 6 pm; and Saturdays 8 to 10 am.
Heritage House for Women: 7 HaMalach Street, Jewish Quarter, Tel: 628-1820; heritagehouseinfo @ gmail.com

Heritage House for Men: 2 Ohr Hachaim Street, Jewish Quarter, Tel: 627-2224; heritage.men @ gmail.com

Christian Jerusalem Pilgrimage Hostels
Christian pilgrims have flocked to Jerusalem since before the Crusades.  There are convents and monasteries all over Israel happy to provide accommodations for travelers.  They offer a unique, contemplative atmosphere which can only enhance the journey for those coming here for spiritual reasons.
You'll find more reviews of these Jerusalem pilgrimage guesthouses here. Note that you'll have to contact them directly to make your reservations, as most don't take online bookings.
Rosary Convent Guesthouse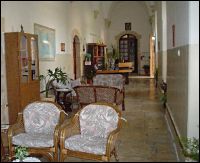 14 Agron St.
Tel: 625-8529
Fax: 623-5581

This quiet haven is in the center of town - although once inside the convent, you'd never know it. Rooms are clean and quiet, with private bath, most with a/c. There's a lovely garden.
The convent is next door to the American Consulate, across the street for the city's only 24-hour supermarket and large park. It's a ten minute walk to the Old City, a few minutes to the center of town. Breakfast is included in the price.
The sisters who run the place are very pleasant. Note that the gates close at 10 p.m.
Click here for more reviews and information on the Rosary Convent Guesthouse.

St. Andrew's Scottish Guesthouse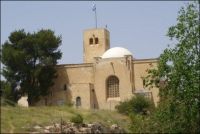 1 David Remez Street
Tel: 673-2401
Fax: 673-1711

Great location - near the King David hotel and YMCA. It's about a 15 minute walk to the Old City, and an equal distance to the center of town.
Very clean, with nice gardens, breakfast included - even free wi-fi.
Click here for more information about St. Andrew's Scottish Guesthouse. 
Lutheran Guest House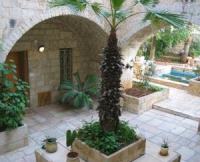 St. Marks Road
Tel: 626-6888
Fax: 628-5107

This Jerusalem hostel is in the Old City, right where the Armenian Quarter and Jewish Quarter meet, the perfect place from which to set out on a Jerusalem pilgrimage.
The building's foundations date from Crusader times but - don't worry - the rooms are only 200 years old and were recently renovated. It offers single and up to four-bed rooms with en suite bathrooms. There is a nice common room with a TV and a library, a garden and a great view of the Old City from the roof. Breakfast is included with the price of the room. Lunch and dinner are also available.

Click here for more information on the Lutheran Guesthouse.
Austrian Hospice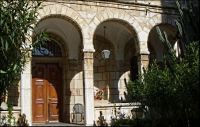 Via Dolorosa 37
Tel.: 626-5800
Fax: 627-1472
In the heart of the old city - right on the Via Dolorosa, in fact - is this clean, quiet haven with a delightful garden. It's a bit incongruous, given the setting, that the cafeteria is famous for its Viennese sachertorte and waltzing balls. But since this is where Emperor Franz Joseph I stayed while on his Jerusalem pilgrimage, perhaps it isn't so surprising after all.
The hospice offers single, double and triple rooms, as well as dormitory accommodations. Rooms include private shower, wc and hair dryer. The dormitories house up to 13 per room in bunk beds, men and women separately.  Payment in cash or travelers' checks only.
Click here for more information on the Austrian Hospice. 
Pontifical Institute of Notre Dame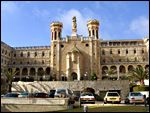 3 Paratroopers Road
Tel: 627-9111
Fax: 627-1995
This imposing institution – a historical landmark – is run by the Vatican. The pope stayed here. Despite the impressive building, the rooms are not luxurious, but they are clean and comfortable.
The atmosphere is friendly and contemplative. There's no Wi-Fi or TV - but there is a daily mass for those who wish to attend. Make reservations if you'd like to eat on the roof-top terrace and enjoy its amazing views while you dine.
The location couldn't be better: just across the street from the Old City. The fathers can also help you plan your own Jerusalem pilgrimage itinerary.
Click here for more reviews of Notre Dame.
Quick Jerusalem Sightseeing Links 



Holy
Sites




Modern
Jerusalem




Museums



Jerusalem

>
Jerusalem Hotels
> Pilgrimage hostels
---
Don't Miss What's New in Jerusalem!

Stay up-to-date with all that's new in Jerusalem and on this site. Subscribe to the RSS feed at the top of the navigation bar over on the left and you won't miss a thing.
And sign up for our free monthly newsletter to stay abreast of what's going on, as well as new discoveries, seasonal events, cool Jerusalem tours and exciting activities.

Subscribe to Our Newsletter