Ahava Bath Salt

Ahava bath salt products make a perfect gift for the woman you want to pamper – especially if that woman is yourself!
At the end of a long day, we can't all simply wander down to the Dead Sea for a therapeutic soak in its healing waters. Fortunately, Ahava makes a whole line of Dead Sea bath salts that allow us to bring the Dead Sea wherever we are and enjoy its benefits at home.
Many of these products are available from Amazon.com. (The following post contains affiliate links.)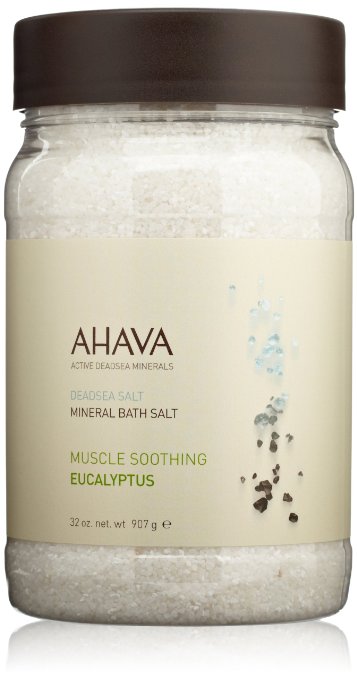 Ahava Bath Salt From the Dead Sea

Dead Sea minerals are particularly soothing for dry, itchy skin or psoriasis.
Ahava's collection of Dead Sea salt bath products includes a variety of products and sets, the most of which include at least one of the three top-selling versions: the regular Ahava Dead Sea Salts, soothing Honey-Herbal or refreshing Eucalyptus.
Salts come in dry form, to sprinkle in the bathtub, or liquid, to use in the shower.  The very effective for very dry skin, psoriasis, and joint pain. (We aren't making any medical claims on behalf of Ahava, just taking note of the fact that Israeli health insurance funds cover stays at the Dead Sea for people with psoriasis - even insurance companies accept that the mud and salt provide relief.)

Once you've decided which of the many "flavors" you like best, you can stock up with several jars of your favorite bath salts. Can't decide? Try a few of the gift sets and keep going until you've sample all of them. Having a few different choices on hand also lets you choose the right one depending on your mood!
More Ahava Products

Choose just the right gift set from a large variety of Ahava product sets – some contain exclusively bath products (complete with bath pillow!), others body lotions or face creams and some provide a combination of favorites. There are body scrubbing sets, romantic aromatherapy varieties and even foot bath combinations.
All of these however feature Dead Sea bath salts, so you can relax aching muscles and joints and bring a little of the Dead Sea experience home with you. Close your eyes as you soak and dream of Israel ... and may you soon be here, soaking in the real Dead Sea!
Dead Sea Tours

Experience the Dead Sea for yourself with these Dead Sea Tours from Jerusalem:

Jerusalem

>
Ahava Products
> Ahava Bath Salts
---
Don't Miss What's New in Jerusalem!

Stay up-to-date with all that's new in Jerusalem and on this site. Subscribe to the RSS feed at the top of the navigation bar over on the left and you won't miss a thing.
And sign up for our free monthly newsletter to stay abreast of what's going on, as well as new discoveries, seasonal events, cool Jerusalem tours and exciting activities.

Subscribe to Our Newsletter