Jerusalem Restaurant Reviews:


Morgens Cafe
 The Place for Breakfast

A new Jerusalem restaurant bills itself as the place for breakfast in Jerusalem. Given the fame of traditional Israeli breakfasts, that's a tall order. Does this café live up to the hype?

Guten Morgen!
Guest post by Marna Becker

Last Friday afternoon, at around 1:30 p.m., my in-house food expert (my husband) and I found ourselves standing outside Morgens Cafe, a new Jerusalem restaurant that bills itself as the place to get breakfast all day in Jerusalem. While we had arrived on a particularly busy day, we were personally greeted at the door – as were all the guests – by co-owner Bryan Choritz, a seasoned restaurateur from South Africa who runs Morgens with his brother-in-law and business partner, Etan Flatow, an immigrant from the United States.
We were seated quickly and as we entered this family-friendly Jerusalem restaurant, I immediately noticed the décor.  Sandwiched between warm, inviting peach-colored walls, was a giant mirror that made the inner room of the restaurant look that much bigger.  On the opposing walls were photos of breakfasts gone by:  a Mexican family eating breakfast at what looks to be a wedding, American coal miners digging into their metal boxes to find breakfast sandwiches, and a Tunisian family enjoying themselves over a meal. My husband was particularly impressed by the tables and chairs made of finished wood.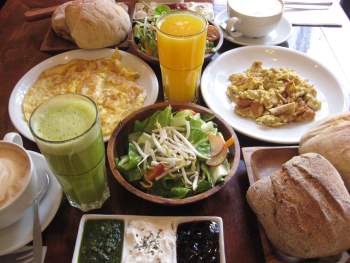 Photo courtesy of Morgens Cafe

Now I am not usually one to follow the hype, however as I said before, Morgens has declared themselves the Jerusalem restaurant at which to get "breakfast all day". And I am a die-hard fan of Mexican food.  So, ladies and gentlemen, I'll admit it publicly:  I followed the hype and landed myself a breakfast burrito. Score!
My Mexican breakfast burrito consisted of a whole-wheat tortilla wrapped around frijoles (black bean spread), scrambled eggs, guacamole and spices, along with a side dish of green salad and some salsa. I thought the black bean spread could have been a bit creamier and I would have enjoyed a touch more egg but I've lived in Mexico and the spices were spot on. Overall, my meal was simply delicious.
My husband enjoyed his portobello burger so much that I didn't even try to get a bite. Made from portobello mushrooms and topped with mozzarella cheese, vegetables, and an aioli sauce, my husband reported that it was tasty, although he'd have liked a bit more sauce. He did let me try the French fries that accompanied his meal and we really liked the fact that they were actually fresh potato wedges lightly fried in oil.
We weren't really so hungry after our main course but decided to live a little and ordered the Snickers cake, which is a cookie with a layer of dulce de leche, smothered in chocolate. You will want it when you see it.
As for prices, my husband's meal was NIS 52 and mine was NIS 39. Compared to other restaurants in Jerusalem that serve similar fare, but we thought that the prices at Morgens Café were noticeably lower for what we saw as higher quality food.
Breakfast is something that most people love because it reminds them of time spent with family on a lazy morning or the foods that they knew from home. Living in a country full of immigrants, many of us have come to appreciate comfort food as a way to reconnect with the old world, while still appreciating life in our new home – Israel.
With excellent prices, a friendly atmosphere, and tasty dishes that we have not seen anywhere else, we felt very much at home at Morgens Café. We can't wait to go back!
5 Rachel Imeinu Street, off Emek Refaim St.
Tel: (02) 582-1330
Sun - Thurs 07:30 - 20:30; Friday 07:30 - 14:00
Rabbanut Jerusalem-Mehadrin
Marna Becker resides in Jerusalem with her husband, Yaakov. When she is not busy plotting her takeover of the known world, she works as a member of the executive committee of the Jerusalem Business Networking Forum (JBNF), a group dedicated to facilitating the growth of and advocacy for Jerusalem-based businesses. Her writing has been featured on the following sites and blogs: The Awesome Israel Blog, AnyDate.com, Shmuell Hoffman Productions, Traveling the Middle East, Israel Maven Tours, Israel Celebrates 65 and Times of Israel.
Return from Morgens Cafe to Jerusalem Restaurant Guide
---
Don't Miss What's New in Jerusalem!

Stay up-to-date with all that's new in Jerusalem and on this site. Subscribe to the RSS feed at the top of the navigation bar over on the left and you won't miss a thing.
And sign up for our free monthly newsletter to stay abreast of what's going on, as well as new discoveries, seasonal events, cool Jerusalem tours and exciting activities.

Subscribe to Our Newsletter