Rosh Hashanah Recipes
Round Challah Recipe
This honey challah recipe is a special once-a-year treat for the High Holiday season.
At this time, all over Jerusalem, the smells of cooking fill the air and the scent of sweet, freshly-baked bread wafts into the street from open windows.
Among our Rosh Hashanah recipes, this challah recipe takes the most important spot. Like most Rosh Hashanah recipes for other foods associated with this holiday, challah, the traditional Shabbat and holiday bread, at this time of year also alludes to the blessings we hope for at the beginning of a new year.
Challah is usually braided from several strands. At Rosh Hashanah, it becomes round.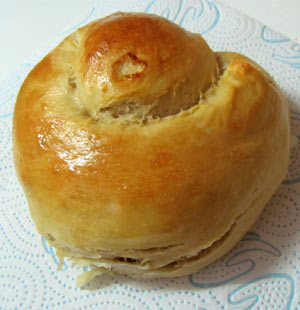 honey challah, baked as a roll ...

Every Jewish custom is significant on a very deep level. The six-strand braided challah of the rest of year represents the channeling and ordering of our creative energies in this world – and our ceasing from creative pursuits on the seventh day, the Sabbath.
The round challah of Rosh Hashanah is not really round, however. It is an upward-rising spiral. While it may seem that the years and seasons simply go round and round, we need not keep repeating ourselves. We are not on a merry-go-round. We can aspire to rise ever higher spiritually. At this Rosh Hashanah, we hope to have improved ourselves enough to be at a higher spiritual plane than we were at this time last year. And we hope that in the coming year we will continue to reach ever higher.
We sweeten our challah recipe with a little honey, with the hope that the coming year will be a sweet one, too.
Shaping the loaves by hand, like we did for the picture here, can be time consuming and a bit tricky. If you want to save yourself a step (and a lot of time!) try these wonderful molds
... or as one large challah

Some people also have the custom of adding raisins – another touch of sweetness. In our family, we do both – we bake half the batch with raisins and half without for those who, inexplicably, don't like raisins in their challah!
No time to bake? Then try this ready challah mix!

Round Challah Recipe
1 C warm water
3 tsp sugar
1 envelope dry yeast

6 C flour
4 eggs
2/3 C canola oil
4 Tbs honey
3 tsp salt

1 C raisins
1 egg
¼ tsp salt


Combine ½ cup warm water with 2 teaspoons of sugar. Sprinkle on yeast and let rest about 10 minutes, until foamy.

Place 5 ½ cups flour in a large bowl.

Make a well in the flour and add to it: ½ cup remaining water, remaining 1 teaspoon sugar, eggs, oil, honey and salt. Stir until well blended.

Gradually add ½ cup flour or more.

Turn onto floured surface and knead until dough is smooth and no longer sticky, adding small amounts of flour if necessary.

Grease large bowl. Turn dough in bowl to grease all sides. Cover with plastic wrap and allow to rise in warm, draft-free place until doubled in volume (about 1 hour 15 minutes). Punch down dough, cover and rise again until doubled, about 1 hour.

Wash raisins and pat gently.

Line a baking sheet with parchment baking paper.

Cut dough into desired number of loaves – 2 large, 4 medium or 6 small challos. Pat each ball of dough into a rectangle. Sprinkle raisins over the dough. Starting at one long side, roll the dough so you have one long stand of dough. Roll the strand back and forth with your hands to make the strand longer if necessary. Starting at one end, roll the strand into a spiral. Tuck one the outside end under the loaf. Place on baking sheet. Cover with damp towel and allow to rise 1 hour.

Pre-heat oven to 375 F ( C).

Beat the egg with ¼ teaspoon salt. Brush the loaves with glaze.

Bake at 375 for 15 minutes, then lower heat to 350. Bake another 25 minutes for large loaves, 15-20 minutes for medium, and 10-15 minutes for small loaves, until the loaves sound hollow when tapped on the bottom.

Cool on a rack.

Have a sweet year!

Click here for a step-by-step guide to the Rosh Hashanah evening meal.
For more delicious Rosh Hashanah recipes, check out these two sites: Chabad.org's Rosh Hashanah Recipes or Aish's High Holiday Cookbook.


Round Challah Recipe > Israeli Food

Jerusalem Home page
---
Don't Miss What's New in Jerusalem!

Stay up-to-date with all that's new in Jerusalem and on this site. Subscribe to the RSS feed at the top of the navigation bar over on the left and you won't miss a thing.
And sign up for our free monthly newsletter to stay abreast of what's going on, as well as new discoveries, seasonal events, cool Jerusalem tours and exciting activities.

Subscribe to Our Newsletter