How to Get to Ben Gurion Airport from Jerusalem
There are several ways to travel to Ben Gurion Airport from Jerusalem. Here's how to go from Jerusalem to the airport by bus, shared taxi or train.
(Click here for more on going to Jerusalem from Ben Gurion Airport.)
Shared Taxi - Sherut

The shared taxi – known locally as a sherut – is an Israeli institution. You'll find a sherut stand down a short way down from the Central Bus Station, on the same side of Jaffa Street. The vans here run to the airport, Tel Aviv or Beit Shemesh. You have to wait until a van fills up before it leaves.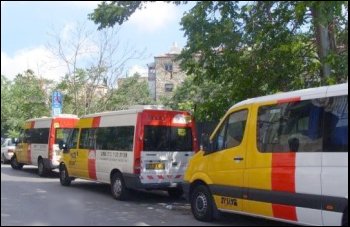 To get a shared taxi to pick you up right at your hotel, have the concierge order one for you the day before your departure. You can also call a shared taxi company to pick you up at any private address in Jerusalem. Make arrangements the day before. 
We've used Nesher Shared Taxis for years to go to  Ben Gurion from Jerusalem and they've proven reliable, if not always charming. They offer 24-hour service. Book a day ahead. Tel: 1-599-500-205 or 02-625-7227.
Or book your transfer online now:

Public Bus

Egged bus lines 947 and 950 leave from the Jerusalem Central Bus Station every 10-20 minutes between 6:05 and 21:00 Sundays throughThursdays, from 6:10 to 16:30 (in the summer) on Fridays, and 20:30 to 22:30 on Saturday nights. (Check the Egged company website for exact schedules.)

It takes about 40 minutes to get to the airport. At El Al Junction, you transfer to a shuttle (Bus 5 or 5א) that takes you to the terminals. The transfer takes about 15 minutes.

Tickets cost 24 shekels.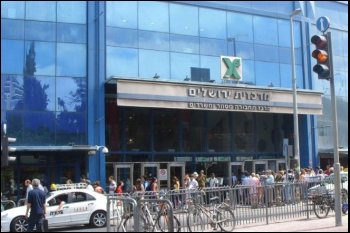 Jerusalem Central Bus Station on Jaffa Road
Get to the Jerusalem Central Bus Station at least 15 minutes before departure time. Security is tight at the station, and you have to wait in line to get through the guards at the entrance of the building. Once inside, you will be asked to run your bag through an X-ray machine just like in airports.
That done, head to the ticket counter. If the line at the ticket booths is long and you are cutting it close, head straight to the departure gate. You can pay your fare directly to the bus driver.
Taxi
You can hail a taxi off the street, or call a cab company. If you have lots of luggage, call the cab company and tell them that you'll need a large vehicle. By law a taxi can only take four passengers.
Average cost from Jerusalem to airport is 180 shekels.
Getting to Ben Gurion Airport by Train:
The Scenic Route

From Jerusalem, trains leave from Malha Station for Tel Aviv and Ben Gurion Airport every hour starting at 5:40 am to 9:40 a.m. After 9:40 a.m. trains run every two hours until 19:40 p.m. Then they run every hour until the last train at 21:40.
As we've noted elsewhere on this site, we don't recommend it unless you're a die-hard train buff or like wandering at a supremely slow pace through some lovely scenery on your way to catch a flight.  
Jerusalem

>
Transportation
> Getting to Ben Gurion Airport from Jerusalem
---
Don't Miss What's New in Jerusalem!

Stay up-to-date with all that's new in Jerusalem and on this site. Subscribe to the RSS feed at the top of the navigation bar over on the left and you won't miss a thing.
And sign up for our free monthly newsletter to stay abreast of what's going on, as well as new discoveries, seasonal events, cool Jerusalem tours and exciting activities.

Subscribe to Our Newsletter