Travelers Prayer:
Tefillat Haderech
Here it is - your free Travelers Prayer.
To download your copy of Tefillat Haderech, the ancient Jewish travelers prayer, right click on the link below, go to "Save Target as", then choose the location where you want to save the PDF file on your computer.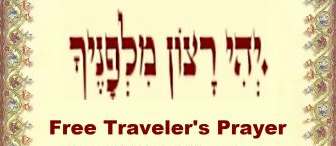 Traveler's Prayer: Tefillat Haderech Download
If you experience any problem with this, please let us know.
Wishing you safe journeys,
Myriam

Travel to Jerusalem With Our Guidebook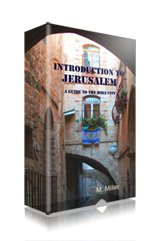 Tour our city with Introduction to Jerusalem: A Guide to the Holy City. Our compact guidebook is the perfect companion for those who have only a few days to visit Israel's capital. We help you make the most of a short stay while making sure you enjoy it, too!
Keep abreast of with all latest fairs, festivals, concerts and happenings through our daily calendar of Jerusalem events.
Follow our blog posts for other timely tid bits and the occasional short-lived promotions you wouldn't want to miss.
---
Don't Miss What's New in Jerusalem!

Stay up-to-date with all that's new in Jerusalem and on this site. Subscribe to the RSS feed at the top of the navigation bar over on the left and you won't miss a thing.
And sign up for our free monthly newsletter to stay abreast of what's going on, as well as new discoveries, seasonal events, cool Jerusalem tours and exciting activities.

Subscribe to Our Newsletter