Jerusalem Events July 2014

*** Due to the security situation, some of the Jerusalem events listed here have been rescheduled. Please see the notices below.  We will do our best to keep you updated.

Events in July reflect that the Israeli summer is now  reaching its peak. It's all about enjoying the outdoors and sports or, conversely, seeking refuge from the heat in a nice, air conditioned setting. This being Jerusalem, there is, of course, a bit of whimsy about it all ...

This year's July Jerusalem events are shaping up to form one of the most action-packed months of the year.  We've got music, we've got movies, we've got sports, exhibits and festivals ... lots to do!  So grab a sun and a bottle of water and check out some of these great offerings:
Open Jerusalem Scavenger Hunts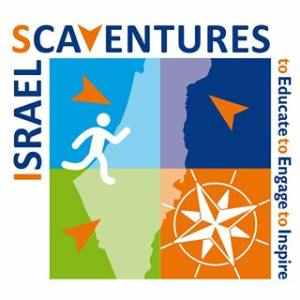 Our top rated group activity in Jerusalem is usually accessibly only if you've got a group of four or more people ready to participate.  In July, however, Israel ScaVentures is running three "open" hunts so individuals as well can enjoy this exciting, educational trip through history. 
There is no minimum group requirement on these dates.  Space is limited, however, and open hunts fill up fast, so advance booking is required.
When: July 8, 16 and 20
For more details and to pre-register online,  click here.
July at the Tower of David

One the must-see sites at the entrance of the Old City, the Tower of David is more than a good museum and historical building.  It's also become a cultural center of sorts, often hosting musical events and dramatic performances.
Its current exhibit, Jerusalem: A Medical Diagnosis showcases the medical history of the city.  Potions, superstitions and medical miracles form a fascinating lens through which to see our history.
On Friday afternoons, Broadway and the West End meet in the Middle East, Ah Jerusalem!  In this English-language musical, written, produced and directed by Broadway veterans, Bernie Kukoff and Danny Paller, an American Jewish family and characters from Jerusalem's past cross borders, time and reality in a live musical in the Citadel.
And the Citadel's famous sound and light show is as breathtaking as always. During July, it's on  Monday, Tuesday, Wednesday, Thursday at 20:30, 21:30 and 22:30 and on Saturday at 21;00, 22:00 and 23:00.
For reservations for the musical, sound and light show, or for more information about events at the Tower of David, call: *2884
The museum is open Sun – Thurs 9:00 to 17:00; Fri 9:00 to 14:00;  Sat. 9:00 to 17:00

Woodstock in Jerusalem
*** Due to the security situation, the Woodstock Revival will NOT take place on July 10.  It has been rescheduled for August 21. ***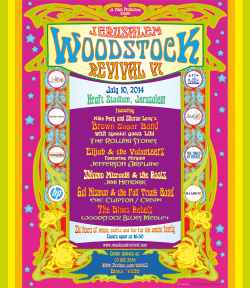 If you think the 60s were the height of romance, kick off
July with a blast from the past at the Woodstock Revival.
Get dressed for the occasion: this Jerusalem event is major hippie-nostalgia time, so dig out your bell-bottoms, fringes, let down your hair and pick some flowers and settle down to relive the glory days …
A line-up of top Israeli artists cover everyone from the Rolling Stones and Cream, to Led Zeppelin and more, including the required Bob Dylan and Joan Baez wannabes.
OK – so this might not be the first thing to come to mind when you think of Jerusalem entertainment, but it's still a
lot closer than most people today will get to the legends.
When: July 10, 2014
Where: Kraft Stadium. No food or beverages other than water are permitted into the arena.
Admission: 104 shekels/84 for students and seniors if you buy tickets online; 140 shekels at the door.
31st Jerusalem International Film Festival

*** Due to the security situation, the Film Festival's grand opening will NOT take place on July 10. Next week's schedule remains unchanged at this time. ***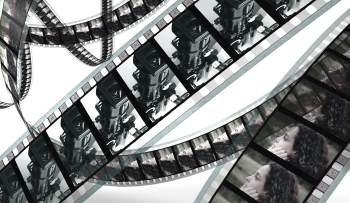 This long-lived Jerusalem event is a summer staple, featuring a choice collection of hundreds international and Israeli films.  Directors hail from all over, from the U.S. to South Korea, offering a truly global banquet of cinematographic art.
In addition to over 200 movies on the program, expect to catch sight of Spike Jonze, David Mamet, and German actress Martina Gedeck, among other celebrities heading to town for the event this year.
All movies have English subtitles.
When: July 10 - 20, 2014
Where: Cinematheque
For tickets http://www.jff.org.il/   or call *9377
The Jerusalem Event for Ball Players:
Street Ball!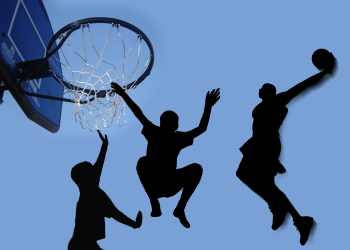 Street ball is one Jerusalem event that ball players look forward to eagerly. 

Shooting hoops is Israel's second most popular sport and many an NBA has-been or wanna-be has found himself a successful career playing for Israeli teams. To bring the pleasure of dunking to the masses and indulge in one of our favorite sports, Safra Square, the enormous plaza in front of the Jerusalem Municipality buildings turns into a complex of multiple basketball courts. 
In what is probably Israel's largest sporting event open to all players, teens, residents and celebrities - from basketball pros to politicians - mingle in this exciting, action-filled scene, with 16 courts to choose from.
Click here for registration (in Hebrew only; until 17 July, 2014 only) or fill out the form at the Municipality, with a check for the fee (no cash accepted).
Where: Safra Square
When: Tuesday, July 22 - Thursday, July 24, 2014.
Contact Number:  03-629-8044
Indie Live Festival


Indie bands take over Jerusalem -- or at least the Russian Compound -- for two days of free concerts.  A dozen bands, three DJs and lots stalls.  The fun begins on Thursday evening and carries on through Friday afternoon.  So if you happen to downtown near Safra Square, stop on by!
When: Thursday, July 25 and  Friday, July 26, 2014
Where: Russian Compound

Free
Friday Culinary Fest
A Jerusalem event for the epicures:  If Israeli food is your thing, the Culinary Market Fair taking place at Malha Mall each Friday morning in July may be just your think.
Choose from artisanal chocolates, cheese, olive oil, Israeli wines, halva, coffees and hundreds of other specialty foods. 
When:  Every Friday in July
Where:  Malha Mall

Bezalel Art Fair
Also on Fridays through the summer is the Betzalel Art Fair.  Stroll around Betzalel and Shatz streets in downtown Jerualem for an eclectic assortment of stalls displaying original art, glass work and photography, while block over, you'll find antique jewelry, vintage clothing and authentic bric a brac.
For more details, see www.bezalelfair.co.il
When:  Betzalel and Shatz streets

When:  Fridays 9:00 to 15:00.​ 
The Beach

Yes, it stretches credulity a bit too far ... but there really is a beach in Jerusalem, in defiance of all geography!
It's at the  First Train Station, complete with beach bar and surf simulator.  Have a beach ball?  Come to Jerusalem.  Who knew?
The Station is also the location of a constantly changing roster of live performances, free yoga classes and other activities.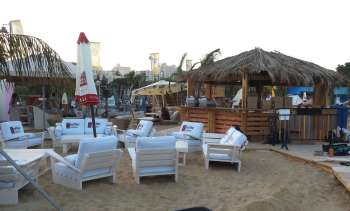 The beach bar in Jerusalem, when it was still under construction.  Those seats are probably all filled up now!

---
Jerusalem
› July Events
---
Don't Miss What's New in Jerusalem!

Stay up-to-date with all that's new in Jerusalem and on this site. Subscribe to the RSS feed at the top of the navigation bar over on the left and you won't miss a thing.
And sign up for our free monthly newsletter to stay abreast of what's going on, as well as new discoveries, seasonal events, cool Jerusalem tours and exciting activities.