Jerusalem Song


Jerusalem song – the city praised in music. Are you looking for a particular song? Just wondering how often Jerusalem has been remembered, praised and loved through music? (Too many to count!)
Here are some of the greatest songs of the holy city.



Walk through Jerusalem and you'll hear music on street corners or drifting through alleys from musicians celebrating our city in song.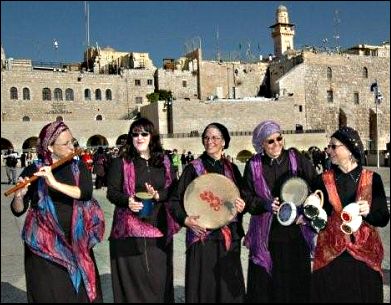 Israeli band Tofa'ah at the Western Wall
Matisyahu
put Jerusalem on the map of hit parades again just recently, with his song of the same name, but the holy city has been praised in song for thousands of years.
King David's Psalms celebrate it over and over; Psalm after Psalm is replete with Jerusalem lyrics. And artists as different as Phish, U2 and Mahalia Jackson have all sung of Jerusalem.
Over the centuries, Jerusalem has become a symbol of returning to former glory – as in songstress Anouk's Jerusalem
– or of building a new glorious place: the unofficial anthem of England is the hymn Jerusalem
, in which the singer longs to make England in a new Jerusalem. (Sorry folks – Britain will never be Jerusalem. Appreciate being in England – we'll enjoy being in the real Jerusalem!) By the way, that's the song that gave the movie Chariots of Fire its title.
Here I'd like to share with you my ever-growing Jerusalem song collection. Where I've been able to obtain permission from the songwriters and publishers, I'll also provide you with my favorite Jerusalem lyrics.
Each link below takes you to a page about the story behind that particular song and the artist who sang it as well as related music videos and Jerusalem lyrics.
Instrumental songs of Jerusalem
World-class musicians have recorded entire albums devoted to Jerusalem.
Sunita Staneslow, one of Israel's foremost harpists, released City of Gold - an album of classical pieces in praise of Jerusalem.




Return from Jerusalem Song to Home page