Jerusalem Events April 2015

The Best Things to Do in Jerusalem in April


Jerusalem events in April are usually highlighted by several major religious holidays that usually occur in this month, and the fact that it's spring - expect pomp, ceremony, and lots of outdoor fun.
Here are some of some of the best things to do in Jerusalem in April:
Passover in Jerusalem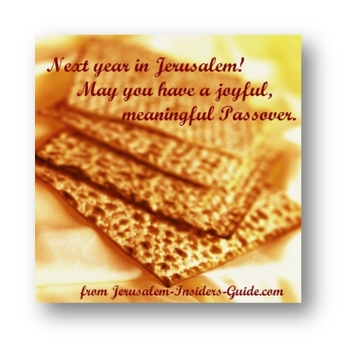 The Jewish holiday of Passover means not only traditional family-centered rituals, but also a week of vacation for almost the entire country. With the advent of spring-like weather, there's always an abundance of Jerusalem events and fairs of all kinds for people to enjoy during the intervening days of the holiday, a period known as chol hamoed.
Experience a traditional Passover Seder by joining a local family, or participating in one in your hotel. Most hotels will have Passover Seder arrangements, if you book ahead of time. If you'd like to have your own Seder, you might enjoy the following free "Passover Seder Wizard" helpful and inspiring.
A highlight Jerusalem events over Passover is the Priestly Blessing at the Western Wall. It's a memorable event that about 70,000 people attend each year. Don't like crowds? Stay away. If you don't mind and think the crowds add to atmosphere and the spirit of this national blessing - don't pass this up!
The first and last days of Passover are official holidays. The intervening days are "semi-holidays". Many stores will close early or may not be open. This is particularly true of some restaurants, which, given the culinary rules of the holiday, may be closed the entire week.
Since the whole country is one vacation, expect large crowds in Jerusalem – but that simply adds to the exciting holiday atmosphere this week.
When: This year, Passover is from the evening of April 3, 2015 through the evening of April 10, 2015
The Priestly Blessing at the Western Wall will take place on April 6, 2015, around 8:45 a.m.
Easter
Photo by Jaime Lynn Ross, cc-by-2.0 license.
This year, both Western Easter is on April 5. Eastern (Orthodox) Easter falls on April 15.
The week preceding Easter is marked by several important Christian traditions. Thousands of pilgrims from all over the world come here to participate in a host of unique Jerusalem events:
Palm Sunday: Processions of pilgrims carrying palms head to the Holy Sepulcher in the morning. In the afternoon, there is a traditional procession up the Mount Olives, down into Gethsemane and into the Old City, chanting Psalms. The procession ends at the Pool of Bethesda. This is a colorful, multicultural affair, with representatives of many nations around the world.
Good Friday: Franciscan monks lead the procession of pilgrims down the Via Dolorosa and the Stations of the Cross to Golgotha in the Holy Sepulcher Church.
Holy Saturday: Pilgrims gather at the Holy Sepulcher by the thousands for Easter Vigil.
Easter Sunday is the culmination of the week, with services in the Christian and Armenian Quarters of the Old City.
When: This year, the Western Holy Week begins March 30 and ends on April 5. The Eastern Orthodox Holy Week begins April 9 and ends on April 15.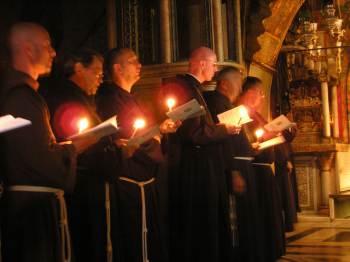 Photo by Abraham Sobkowski under a cc-by-3.0 license
Jerusalem Ice Skating Rink


The annual ice skating rink that has become such a popular Jerusalem attraction is in a new location this year.
Ice skating in Israel probably isn't one of the first things to come to mind when you compile your list of things to do in Jerusalem, so there is a certain perverse pleasure in doing just that!
The rink has moved to the newly opened Cinema City.

The admission fee for thirty-minutes of skating is reasonable and there are monitors on duty to help you out if your skating skills are a bit rusty.
When: March 3 through April 23, 2015
Hours: Sun-Thurs 14:00 to 23:00; Fri 9:00 to 15:00; Sat. night from 1 hour after Shabbat until 24:00.

Where: Cinema City Mall
Admission: For reservations call 02-547-9400 or purchase tickets online at the Cinema City website. (Choose your date, then scroll past the movies to the list of skating times.) Price includes rental of ice skates, so be sure to check your shoe size in European format (not US) so you can get the right skates.

Jerusalem Event: Race From the Sea


The "Yam-l'Yam" race runs ultra-marathon and relay races between the sea in Tel Aviv to Jerusalem.  In alternate years, the race switches directions.  This year, all trails lead to Jerusalem.
When:  April 16 - 144 km and 54 km ultra-marathons; April 17 - 70 km ultra.
For more information, check out the marathon's website.

Jerusalem

>
Jerusalem Events Calendar
> April
---
Don't Miss What's New in Jerusalem!

Stay up-to-date with all that's new in Jerusalem and on this site. Subscribe to the RSS feed at the top of the navigation bar over on the left and you won't miss a thing.
And sign up for our free monthly newsletter to stay abreast of what's going on, as well as new discoveries, seasonal events, cool Jerusalem tours and exciting activities.