First Century Jerusalem


First century Jerusalem was a bustling metropolis on the brink of disaster. And yet, architecturally and culturally, this was also one of the most prolific periods of Jerusalem history.
In 19 CE, the Romans installed Herod as king. Herod (37-4 BCE) promptly launched one of the most ambitious public building projects in antiquity and turned Jerusalem into a stunningly beautiful city. His most famous project was the extensive renovation of the Temple, but he also built many other buildings in Jerusalem and throughout Judea.
The best way to imagine Jerusalem in the first century is to visit the model at the Israel Museum. The city included not only the Temple Mount and the lower city (the area of the present day Ophel Archaeological Park and the City of David), but also the upper city (the present day Armenian and Jewish quarters). Right next to the Temple, Herod razed the HaBirah Fortress and replaced it with the imposing Antonia Fortress.


The upper and lower city.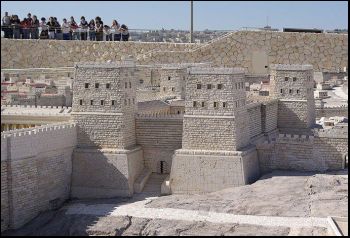 The Antonia Fortress.
The Temple
You can see the model on display at the
Israel Museum.


Return from First Century Jerusalem to Jerusalem History


Return to Home page.


Traveler's Prayer
Our Gift to You!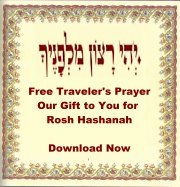 ---
Take us with you!
Only have a day or two in Jerusalem? Download our guidebook and make the most of your time here.
Introduction to Jerusalem: A Guide to the Holy City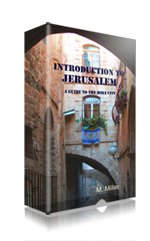 "As we had limited time in Jerusalem, I purchased your mini guide book and found it very informative. Thanks!" - Brian, S. Africa


---

Top 5 Jerusalem Hotels
Click here for the top 5 discount hotels in Jerusalem.
---
Learn to Speak Hebrew:

---
Make Jerusalem part of your life:

Subscribe to our FREE newsletter.

---
Jerusalem Video
The 6-min virtual tour