Dear,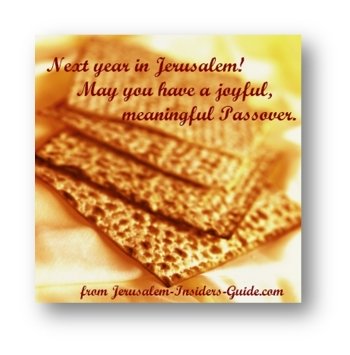 Happy Passover!
We at Jerusalem-Insiders-Guide.com want to wish you a wonderful and joyful Passover holiday.

Passover is April 10 – April 18 this year.

The Priestly Blessing will be recited at the Western Wall in Jerusalem on April 13, during morning services at around 8:45 (blessing around 9:30) and 10:15 a.m. (blessing around 10:30).

Need a little inspiration or how-to-help for the Passover Seder? This Passover Resource Center comes to the rescue.

Visit the Jerusalem Insider's Guide aStore to pick up last minute Passover necessities – seder plates, Haggadahs and goodies to keep kids busy and entertained. (By the way, we're loving The (Unofficial) Hogwarts Haggadah. Yup, even all the way over here, in Jerusalem!)

As to the menu, find the perfect Passover cookbook to make your seder gastronomically memorable this year. And if you're vegan - don't worry. My friend Rena Reich has you covered, with her newly
published Vegan Start Passover Cookbook: Eat Well on Pesach!

By shopping through these links, you also help support our website and show your appreciation for the free information we provide. Thank you!

If you haven't yet, you can sell your chometz online here.


Family Activities During Passover Chol Hamo'ed

If you're going to be in Jerusalem next week and the following week, there's lots to keep you busy during Chol Hamo'ed, the intervening days of Passover.

First, you might want to download your copy of our Introduction to Jerusalem: A Guide to the Holy City. It's the perfect guidebook for anyone planning a short visit (yes, that's a shameless plug for my own book!).

Check out the Jerusalem Scavenger Hunts – there are many of them to choose from, but they tend to fill up fast during Passover, so don't miss this opportunity to explore Jerusalem in a hands-on, fun and educational way. No matter how often or how long you've been here, a Jerusalem Scavenger Hunt will make you see our city in a whole new way. To find out more or make reservations, click here.

You might also want to check out some of the kids' activities at the Bible Lands Museum, the Israel Museum or Ir David, the City of David, which is always a fascinating place for people of all ages.


Planning for Summer

Summer will be here before we know it, so if you're planning a trip to Jerusalem later this year, now is the time to book your hotel and discuss an itinerary with one of our tour guides.


Your Prayers in the Wall

If you aren't in Jerusalem, remember

that you can always send your prayers to the Western Wall through our site. (Your prayers are strictly confidential and are deleted from our system as soon as they are delivered to the Wall.)

This is a free service that we consider a privilege to provide. Jewish tradition, however, teaches that prayer and charity, together, have the power to change Divine decrees. So please consider super-charging your prayer with a donation to our charity fund for disabled children in Jerusalem. Your donation, however small, would help provide much-needed services, therapy and medications for severely disabled children in Jerusalem, as well as food to help them enjoy the upcoming holiday.

Whatever you choose to do and however you choose to celebrate the holiday, may these be days of joy for you and your

family. Safe journeys and may we see you soon, here, in Yerushalayim.

Your Hebrew lesson of the day: חג שמח Chag Same'ach - in other words: Happy Holiday!

Blessings from Jerusalem,
Myriam





Mom, Dad, I have something to say… In Hebrew!
Shalom,

It's the first thing almost every baby says: the word for the man or woman who gave them life. It's such a basic word, but how do you say it in Hebrew? So, mother is "Ima" (אמא), and father is "Aba" (אבא). Easy, right? But what do you call your uncle? Or your aunt? Your sister, brother, grandfather or grandmother? Follow through to learn all about it!
Sincerely,
Pnina Yerushalmi,
Modern Hebrew teacher at eTeacher
---
Don't Miss Out!


Please forward our newsletter to your friends. If you don't want to miss anything in between newsletters, please subscribe to our RSS feed – that means Really Simple Syndication, and it couldn't be simpler.

Visit our blog and use the orange RSS button in the left-hand column to automatically add the feed to your feed reader. Or, copy and past this link into your feed reader: https://www.jerusalem-insiders-guide.com/Jerusalem.xml.

Jerusalem-Insiders-Guide.com
Like us on Facebook!
Follow us on Twitter: @FromJerusalem