Dear,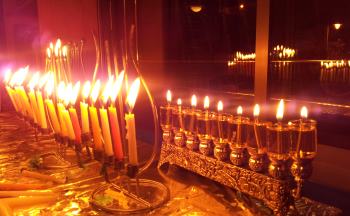 Happy Chanukah From Jerusalem!
We want to wish you and your family a very blessed holiday and a successful, joyful year!

If you're in Jerusalem now, be sure to check out special treats like Israel Scaventures and Jerusalem guided photography walks, led by professional photographer and long-time Jerusalem resident, Sharon Altshul. Or take one Janet Moshe's neighborhood walking tours. You'll get to focus on Jerusalem like never before!

Are you a fan of sufganiyot? The delicious sweet scent of this deep-fried Israeli Chanukah treat drifting out from every bakery is enough to make my head spin. It's almost a Jerusalem tradition to sample some sufganiyot from every one of those bakeries, just to see who makes them best. However, there's something very satisfying about making your own. If you're home for the holiday and want to add a taste of Israel to your holiday meals, try our baked sufganiyot recipe for a healthier take on this uniquely Israeli Chanukah tradition.


Chanukah Events in Jerusalem
Be sure to catch the public menorah lighting at the Kotel at least once. It's at 16:00 every weekday at the Kotel Plaza. There's also a public menorah lighting at Mamilla Mall, and at various other locations around the city.

Admission will be free for kids during Chanukah at all of the following Jerusalem Museums:

Ammunition Hill
Bible Lands Museum
Bloomfield Science Museum
The Israel Museum
Menachem Begin Heritage center
Museum of Italian Jewish Art


Last Minute Gifts
Still looking for some last minute holiday gifts? I think our Introduction to Jerusalem: A Guide to the Holy City is the perfect gift for anyone planning a short visit (yes, that's a shameless plug for my own book!). It's only $2.99, so it's a great deal.

And then there's the kind of gift that lasts a lifetime: like the gift of language. Why not decide this is the year you're going to learn Hebrew? There's no time like now. Check out see our review of eTeacher's course. Hands down - nothing like it. So give yourself or someone you love the gift of Hebrew.


Your Prayers in the Wall
As we wish you the best for the holidays and the coming twelve months, remember that we're here to deliver your prayers to the Western Wall in Jerusalem for you. (Your prayers are strictly confidential and are deleted from our system as soon as they are delivered to the Wall.)

This is a free service that we consider a privilege to provide. Jewish tradition, however, teaches that prayer and charity, together, have the power to change Divine decrees. So please consider super-charging your prayer with a donation to our charity fund for disabled children in Jerusalem. Your donation, however small, will help provide much needed services, therapy and medications for severely disabled children in Jerusalem.

Chag Same'ach – Happy Holiday!

Blessings from Jerusalem,
Myriam


P.S.Treat yourself to something lasting and finally discover the joy of learning Hebrew...