Dear,



Happy Hanukkah From Jerusalem!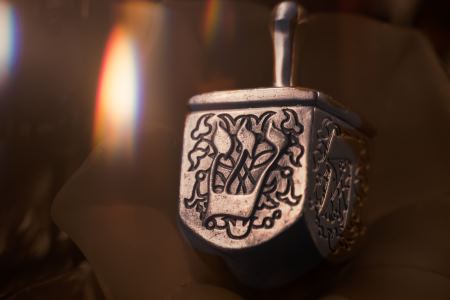 Today is the last day of Chanukah. The eighth day of this holiday is also known as Zos Chanukah — this is Chanukah. It's the final wrap-up, so to speak, of all the holidays since Rosh Hashana, the Jewish New Year.

So, we're wishing you a wonderful wrap-up of our festive seasons and that the lights of the Chanukah candles continue to illuminate your life with joy, good health, and blessings for the rest of the year!

It's been a while since we've written, but that doesn't mean nothing was going on here in Jerusalem! For example, did you know the Macy's parade came to Jerusalem? Yup – sure did!

This is also a time of year that recent archaeological discoveries are usually announced and this year's didn't disappoint, with a First Temple period beka measure being revealed. Read more about it here and watch archaeologist Eli Shukron discuss the significance of this discovery (in Hebrew with English subtitles).
Planning Your Trip to Jerusalem?
Start with our Jerusalem Travel Planner to make the most of your trip!

We've found a selection of day tours that provide a great overview of our unique city — as well as of other areas of Israel.

If you prefer your own walking tour of Jerusalem with an excellent certified tour guide who will tailor the experience to your interests, check out which neighborhoods you can explore with us here.

As for where to stay — check out your options here.

And don't forget to download your free Traveler's Prayer to take with you!

It's hard to believe 2018 is coming to a close – what a year it's been since last Hanukkah! If you haven't stopped by our site in a while, come and visit and let us know if you like what you see!
Your Prayers in the Wall
As the year winds down, it's time for some introspection. As we wish you the best for the holidays and the coming twelve-months, remember that we're here to deliver your prayers to the Western Wall in Jerusalem for you. (Your prayers are strictly confidential and are deleted from our system as soon as they are delivered to the Wall.)

This is a free service that we consider a privilege to provide. Jewish tradition, however, teaches that prayer and charity, together, have the power to change Divine decrees. So please consider super-charging your prayer with a donation to our charity fund for disabled children in Jerusalem. Your donation, however small, will help provide much needed services, therapy and medications for severely disabled children in Jerusalem.

May the lights of the holiday illuminate all the days of your coming year and bless you with warmth, good health, sustenance and safe journeys. And may we see you soon, here, in Yerushalayim.

Blessings from Jerusalem,
Myriam


P.S.Treat yourself to something lasting this holiday. Sign up now for the best Hebrew classes anywhere....


---
Don't Miss Out!
Please forward our newsletter to your friends. If you don't want to miss anything in between newsletters, please subscribe to our RSS feed – that means Really Simple Syndication, and it couldn't be simpler.

Visit our blog and use the orange RSS button in the left-hand column to automatically add the feed to your feed reader. Or, copy and past this link into your feed reader: https://www.jerusalem-insiders-guide.com/Jerusalem.xml.

Jerusalem-Insiders-Guide.com
Like us on Facebook!
Follow us on Twitter: @FromJerusalem