Dear,




Happy New Year!

Jerusalem celebrated Rosh Hashana, the Jewish new year, eleven ago, fasted through Yom Kippur last Saturday, and is now gearing up for that most joyful of holidays: Sukkot – zman simchateinu – the season of our rejoicing, September 27 - October 5.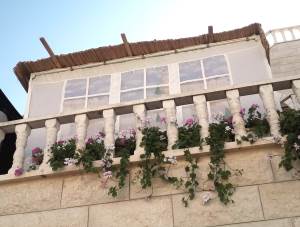 Sukkot, often described as the original Thanksgiving holiday, commemorates the Divine Protection enjoyed by the Children of Israel during their wanderings through the desert after the exodus from Egypt.

Traditionally, Jews celebrate by building booths in which they eat and sleep for the duration of this week-long holiday. The booths are called sukkot or sukkos (one sukkah, two sukkot/sukkos). An assortment of other rituals and tradition embellish the holiday.

What is Sukkos really all about? To learn more about this happy holiday, check out the Chabad Sukkos website.

In Israel, the entire country is on vacation and in Jerusalem, it feels like everyone takes to the outdoors to party, play and celebrate for a week.

Come to Jerusalem for the season of our rejoicing and here's a sample of what you can expect next week:


Priestly Blessing

The priestly blessing is said every day in Israel (except in the Galilee), but during the intermediate days of Sukkot and Passover, it has become a custom to have a mass priestly gathering bless the enormous crowds at the Western Wall. This is a unique Jerusalem experience – don't miss it!

This year, it takes place at the Western Wall on Wednesday Sept. 30. The Old City will be closed to traffic during Sukkot, so you'll have to walk – along with what seems like half the country. Morning prayers are scheduled to begin at 8:15 a.m. so expect the Priestly Blessing to take place around 9:00 am and again at about 10:00 a.m.


The Jerusalem March

On Thursday, Oct 1, Jerusalemites will take to the streets for the Jerusalem March – a parade down the center of town. There will be arts, crafts, live shows, performance artists and children's activities at Sacher Park to kick off the march, which begins at 10:00 am and lasts until 3:00 pm.

If you were planning any other daytime activity on Thursday – don't go into town, because most major streets will be closed for the parade.


Visit the World's Largest Sukkah

The sukkah at Safra Square is billed as the world's biggest one. True or not, it is quite an impressive size, and there are lots of activities going on in and around it, including workshops where kids can make their own musical instruments.


Simchat Beit Hashoevah for Women

A simchat beit hashoevah is the ultimate Sukkot party – lots of music and hours of dancing. Almost every synagogue in Jerusalem will be having one. Typically, men dance and women gather to watch.

Thanks to Tof Miriam, a non-profit organization that supports Israeli women in the arts, women can also find simchat beit hashoevah events where they can dance, too. These events have become a Sukkos tradition where mothers and daughters, groups of teenagers and grandmas of all political and religious stripes come together to dance and celebrate. Tof Miriam's flagship band, Tofa'ah, an all-women rock/jazz group, will be performing live in Jerusalem on:

Thursday, October 1, at Matnas Romema, 5 Zichron Yakov Street, 8:00 pm, Free admission.

There's nothing quite like these events anywhere else – many women report the Tofa'ah simchat beit hashoevah concerts to be one of their favorite memories of Jerusalem, so – if you're female – don't miss this opportunity.

(If you're not female, simply wander through the neighborhoods of Meah She'arim and Geula in the evenings of September 28 through October 1 and follow the music!)

For a complete listing of Jerusalem Sukkos events, check the Sukkos Family Guide put together by Fun In Jerusalem.

Sukkah-hopping? Judy Lash Balint has a list of the 12 best places to see sukkos in Jerusalem.


Your Prayers in the Wall
If you aren't in Jerusalem, remember that you can always send your prayers to the Western Wall through our site. (Your prayers are strictly confidential and are deleted from our system as soon as they are delivered to the Wall.)

This is a free service that we consider a privilege to provide. Jewish tradition, however, teaches that prayer and charity, together, have the power to change Divine decrees. So please consider super-charging your prayer with a donation to our charity fund for disabled children in Jerusalem. Your donation, however small, would help provide much needed services, therapy and medications for severely disabled children in Jerusalem, as well as food to help them enjoy the upcoming holiday.

Whatever you choose to do and however you choose to celebrate the holiday, may these be days of joy for you and your family. Safe journeys and may we see you soon, here, in Yerushalayim.

Your Hebrew lesson of the day: חג שמח Chag Same'ach - in other words: Happy Holiday!


---