Dear,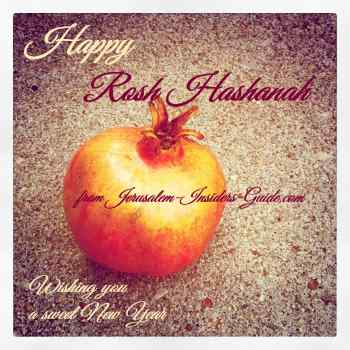 We want to wish all of our dear subscribers a blessed new year, filled with good health, friendship, sustenance a plenty, and many joyful travels!

Rosh Hashanah, the Jewish New Year, is almost upon us, so please accept our Rosh Hashanah gift to you, a pretty Tefillat Haderech, the traditional Jewish Travelers Prayer, in English and Hebrew, which you can download here. Print to frame or print it small to carry with you when you travel. May all your journeys be blessed!

The scent of baking challah and other holiday cooking is drifting in the streets as Jerusalemites prepare for the holiday. Want to fill your home with the smell of Rosh Hashanah? Try our honey challah recipe. It's sure to add a touch of sweetness to your meal. We also found this very nice step-by-step guide to the Rosh Hashanah evening meal that you might enjoy.

Remember that you can send us your prayers and we'll place them in the Western Wall in Jerusalem for you. (Your prayers are strictly confidential and are deleted from our system as soon as they are delivered to the Wall.)

This is a free service that we consider a privilege to provide. Jewish tradition, however, teaches that prayer and charity, together, have the power to change Divine decrees. So please consider super-charging your prayer with a donation to our charity fund for disabled children in Jerusalem. Your donation, however small, would help provide much needed services, therapy and medications for severely disabled children in Jerusalem.

May your entire year be sweet, peaceful, healthy, prosperous and joyous, and may we meet in Jerusalem soon!

P.S. With a new year dawning, do something for yourself as well. Isn't it time to learn Hebrew?



Shalom,

Throughout history, the Hebrew language has helped to

unite Jewish communities around the world

. Learning Hebrew is not only about understanding the prayers and the psalms, but also embracing Jewish and Israeli traditions and being part of the Jewish nation.