Hebrew Translation Online
Babylon Translation Software


If you're looking for easy and fast Hebrew translation online, look no further than the Babylon 9.0 free trial download . This impressive program offers free English to Hebrew translation at a click.

Babylon translation software provides the best program and online dictionaries available. When I ran a French-Hebrew-English translation service, this was the favorite, most-used dictionary of all the translators on the team. It's also used by international corporations such as Nestle, IBM and Ernst & Young, just to name a few.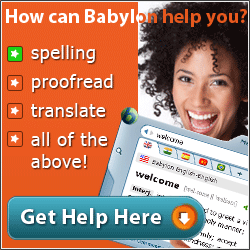 Babylon 9.0 generates quality, machine-generated translation in 75 languages – simply press control and right-click on any word on your computer screen, or highlight a phrase, then press control and right-click. Presto, its multiple dictionaries will identify the language and instantly provide you with a translation, usage examples and supporting sources. Use it for web pages, e-mails, Excel or Word documents. It is also capable of pulling text from PDF files or your internet browser, and translating an entire web page or Word document.
The program offers much more than most users will ever need. It provides access to 2000 dictionaries and glossaries in a wide variety of languages, including the Oxford, Britannica, and Larousse dictionaries. In addition, the FAQs available online are very helpful. There is also a user-community – a very good forum for translation questions, whether they are related to the software or not. And support is also available by e-mailing the company directly. (However, Babylon is so simple to use, you probably won't have to.)
No program can compare with the finesse of a human translator. Nevertheless, Babylon translation software stands out among machine-generated translation programs because of its superior accuracy. It is simply way better than anything else out there.
The one danger with this trial download? When your free trial period is up, you'll miss it so much, you'll want to buy it! (At $12.90 a month, though, it's an incredible deal.)


Return from Hebrew Translation Online to Learn to Speak Hebrew


Return to Jerusalem Home page.