An evening of Jazz, Folk and Soul with Tofaah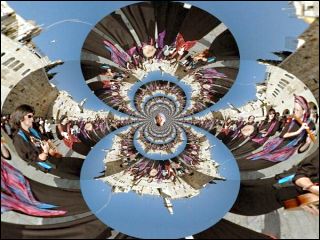 An intimate evening of Jazz, folk and soul with Tofa'ah, Jerusalem's number one all-woman band.
Where:
The performance will be held at the OU Israel Center, 22 Keren Hayesod Street
When:
Wednesday, Feb. 13, 2013
Time:
8:00 p.m.
Tofaah is an all women's band that adheres to the halachot of kol isha - it performs only for female audiences.
This unique Jerusalem band has been the subject of several award-winning TV documentaries and documentary films, in Israel, the U.S. and as far afield as S. Korea. It has been featured in many publications and has appeared repeatedly on Israeli TV and radio.
The band is lead by drummer and percussionist Yona Yakobovitz. A former student of Max Roach and Elvin Jones, she composes and arranges much of the band's music.
The band also features often-time co-composer Mindy Fuhrer on vocals and guitars, Tamar Attias - who recorded for Rabbi Shlomo Carlebach - on flutes and whistles, Avi Shenkin on guitar, Karina Krawiec on bass, Lois Weinstein, Susan Hendrickson and Jesse Schechter on percussion, and Samara Hendrickson on vocals.
Tofaah's music ranges from soul-stirring ballads to rousing rock and roll, with a strong undercurrent of Latin Jazz and world percussion influences. The lyrics, many drawn from or alluding to traditional Jewish texts or concepts, are invariably thought-provoking.
No matter what style of music they're playing, the band's music strives to inspire and foster a sense of unity, to enable their audiences to let their souls shine. It isn't unusual for women from all different backgrounds to laugh, cry or get up and dance together with people they'd never have spoken to otherwise - and that's what the band is really all about.
Tofaah concerts are usually standing-room only with audiences numbering in the thousands.
This is a rare opportunity to see the band perform in a particularly intimate and mellow setting to a primarily English-speaking audience.
Learn more about Tofaah here
.
---
Don't Miss What's New in Jerusalem!

Stay up-to-date with all that's new in Jerusalem and on this site. Subscribe to the RSS feed at the top of the navigation bar over on the left and you won't miss a thing.
And sign up for our free monthly newsletter to stay abreast of what's going on, as well as new discoveries, seasonal events, cool Jerusalem tours and exciting activities.